Third Major Roadway Shutdown Of The Summer Will Take Place during Labor Day Weekend
8/22/2018, noon | Updated on 8/22/2018, noon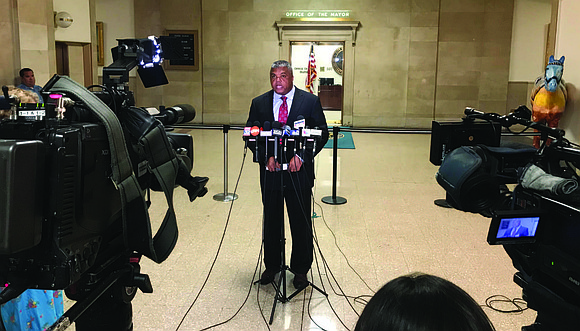 Third Major Roadway Shutdown Of The Summer Will Take Place during Labor Day Weekend
BY KATHERINE NEWMAN
Rev. Gregory Seal Livingston, interim pastor of New Hope Baptist Church, recently hosted a press conference outside of the Chicago Mayor's Office on the fifth floor of the Chicago's City Hall building, 121 N. LaSalle St., to announce that he is organizing a shut down of the Kennedy Expressway entering and exiting O'hare International Airport on Sept. 3.
This will be the second major roadway shut down organized by Livingston, who is one of two organizers responsible for the Aug. 2 shut down of Lake Shore Drive, and the third major shut down overall this summer.
Just like the Lake Shore Drive shut down, Livingston's number one demand for the O'hare shut down is the resignation of Chicago's Mayor, Rahm Emanuel. The second pillar of his movement is to reduce violence in Chicago through investment on the south and west sides of the city.
"Here's what we know, to reduce this violence Chicago must desegregate. You must desegregate economic investment. You must desegregate healthcare assets. You must desegregate how education assets are allocated in our city," said Livingston.
This time around, Livingston is going at it alone after having split from his Lake Shore Drive shut down partner, Tio Hardiman, who is a long-time Chicago activist and the president of Violence Interrupters non-profit organization.
"Livingston was willing to go to jail and that's what made me separate myself from any future rallies or marches with him because I'm not trying to lead people to go to jail," said Hardiman. "Livingston and I have subsequently made peace. He is going to do what he needs to do in regards to organizing events and I plan to continue to organize on my end and we are not enemies by any means."
Moving forward, Livingston believes that he will have plenty of support for his upcoming O'hare Airport shut down, with our without Hardiman.
Once again, Livingston said that will not ask for permission to shut down the Kennedy Expressway and the only way to prevent it is by immediate action from the Mayor.
"Mr. Mayor, with all due respect, if my colleagues and I do not hear from you, and know this, we will not allow you to segregate us by buying us off like slaves in a slave auction, we will Shutdown the traffic flow that goes in and out of O'Hare International Airport," said Livingston.
Livingston is hoping that if he is disruptive enough, the Mayor will have no choice but to sit down with him and work out an immediate plan of action.
"We have to sit down with the Mayor, not just his messengers, and have a real conversation about real numbers and real figures and give the people a win now. There is no waiting period when people are literally dying around us and there are wins that we can get right now that will make a difference in the community," said Livingston.