Students Get Back To School Shopping Spree From Target
8/22/2018, noon | Updated on 8/22/2018, noon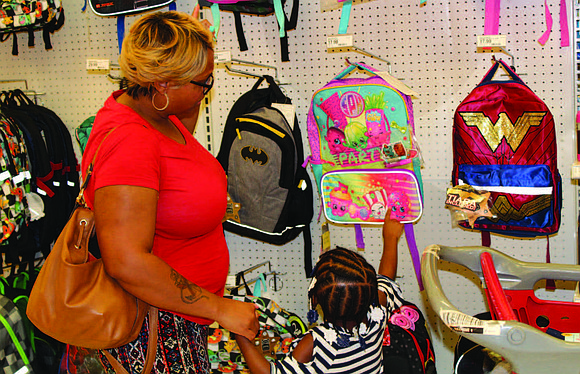 Students Get Back To School Shopping Spree From Target
BY KATHERINE NEWMAN
The Blue Island/Robbins Neighborhood Network recently partnered with the Target Store in Morgan Park, 11840 S. Marshfield Ave., to offer 100 local students $100 each for a back to school shopping spree. Students were able to get anything and everything they needed including school supplies, backpacks, uniforms, and new shoes to start the school year off right.
The Blue Island/Robbins Neighborhood Network is an initiative from the United Way of Metropolitan Chicago. There are a total of 10 Neighborhood Networks supporting various communities across the city by providing them with the necessary resources for success, like helping with back-to-school shopping.
Target partnered with United Way of Metropolitan Chicago to provide a Back to School Shopping spree for 100 students in all 10 Neighborhood Networks. The superstore's total investment of $100,000 across the City of Chicago was not only generous, but also alleviated a major financial burden for many parents.
"This is a resource that Target brought into our community to help parents and to make sure that their children were prepared to go back to school and it just fits our overall goal of providing our residents with whatever resources and services that we can. I'm happy that Target saw fit to work in all 10 of our communities to provide those opportunities for our children," said Kentric Benson, Blue Island/Robbins Neighborhood Network project coordinator.
Back to school time is exciting for most students, but can be very stressful for parents who are experiencing a financial hardship. To make sure that the $100 Target gift cards were making their way to the right families and students, teachers, administrators, and counselors from Cook County School District 130 and Posen Robbins School District 143.5 worked together to select the children that they thought were most in need, according to Benson.
"I had a parent say to me that they had been recently laid off and they were having to make a decision on paying the bills or trying to figure out how to get their child back to school things. The shopping spree came right in time and was a blessing," said Benson.
This is the second year that Target has provided this opportunity to the Blue Island/Robbins Neighborhood network and Benson said that last year's Shopping Spree was amazing and this year was even better.
"There was one young lady who was so excited to get her backpack that she put it on in the store, she wore it throughout the store, she wore it to the checkout line, and she wore it out of the store. That's how happy she was to get a backpack and she found the backpack that she wanted and it was a joy for her to be able to get it," said Benson.
For more information on the Blue Island/Robbin Neighborhood Network visit www.uw-mc.org.