Founder of True Beauty Eagle Foundation Calls Herself a Life Journey Tour Guide For Youth
8/15/2018, noon | Updated on 8/15/2018, noon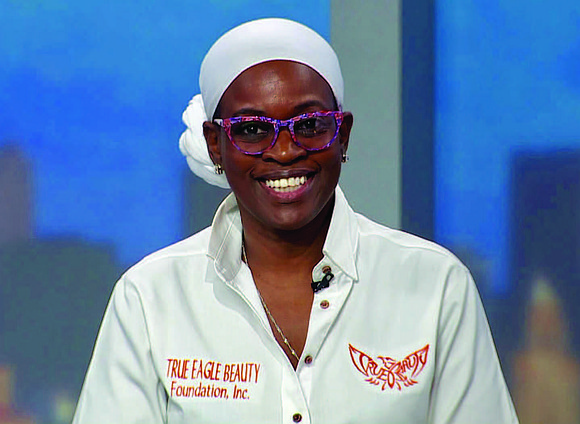 Founder of True Beauty Eagle Foundation Calls Herself a Life Journey Tour Guide For Youth
BY KATHERINE NEWMAN
VaLaurie Humphrey went from college flunk-out to front office administrator, motivational speaker, mentor, and founder of the True Eagle Beauty foundation, a non-profit organization that provides programming and mentors to build self-esteem for Chicago's youth. She has made a name for herself by sharing her story.
CITIZEN: In your own words, who is VaLaurie Humphrey?
HUMPHREY: She is a college flunk-out that became a front office administrator at a middle school. Her journey hasn't been perfect but it has turned out pretty great. She now travels the country providing personal and professional development in the education arena for students, parents, educators, and administrators. Without a doubt, she is more than a conqueror.
CITIZEN: What are some of your personal passions and experiences that led you to start the True Eagle Beauty Foundation?


HUMPHREY: Growing up I searched for love and affirmation from my peers and adults. It took me well into my adult years to figure it out. I figured out that I had everything I needed, was right inside of me. I yearn for every young lady to learn this lesson early on and avoid some of the unnecessary pitfalls of life.
CITIZEN: What makes you a valuable source for the young women that you mentor?


HUMPHREY: I am their tour guide not their travel agent on their life journey. I proudly share my story of flunking out of college and ultimately getting myself back together enough to become an amazing school administrator. I love connecting with youth, mainly the ones that others push aside. My focus is always children first, not their issues or struggles. I look beyond their actions and see their needs.
CITIZEN: When you work as a public motivational speaker, what do you focus on and what is the learning experience?

HUMPHREY: Speaking is that one thing that refuels me to keep pressing towards the goal of impacting as many lives as possible. I focus on the audience and their needs. We all want to be loved. My ultimate speaking goal is for everyone under the sound of my voice to become motivated enough to transform, by changing their actions which will inevitably lead towards a more successful productive life.
CITIZEN: Throughout your career as a teacher, administrator, motivational speaker, and young women's leader do you believe you have been able to make the impact that you wanted to and how does that feel? HUMPHREY: The answer is yes and no let me explain the more I speak, the hungrier I get to continue on this journey. I feel that my impact is apparent when those that I have poured into return to serve beside me at the foundation. I still have relationships with hundreds of my former students and mentors. The proud moments come when they reach out to share their accomplishments and share how I have impacted their lives. I absolutely love pouring into others. I am gearing up to retire and take on providing personal and professional development full time very soon. I will continue to travel the country and impact billions of lives.