Youth Baseball League Builds Trust Between Police And Communities
8/8/2018, noon | Updated on 8/8/2018, noon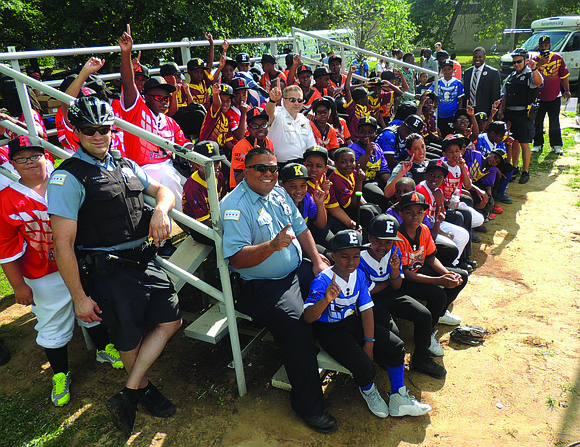 Youth Baseball League Builds Trust Between Police And Communities
BY KATHERINE NEWMAN
Members of the Chicago Police Department recently acted as coaches for young baseball players, from Austin, Englewood, and North Lawndale neighborhoods, as they faced-off in Get IN Chicago's Police/Youth Baseball League All-Star game. The All-Star game took place at the
University of Illinois at Chicago's Curtis Granderson Stadium located on 901 W. Roosevelt Rd.
Get IN Chicago is an organization that provides funding to community-based organizations that work to reduce youth violence and addresses the systemic issues that lead to youth violence. Get IN Chicago also studies and funds anti-violence initiatives focused on acutely high-risk youth that are at a heightened risk for becoming victims or perpetrators of violence.
"One of our special programs is the baseball program that we fund in three communities and this is the fourth summer in a row that we've been funding it and the reason for it coming about is to try and improve relations between the community and the police in these neighborhoods that have had difficulty in engagement with police over time," said Dr. Toni Irving, Executive Director at Get IN Chicago.
The Police/Youth Baseball League teams are made up of kids from 9 to 12 years old that live in Austin, Englewood, or North Lawndale. Each neighborhood has their own league that consists of six teams and each team is coached by a police officer who's active or retired from the community.
The unique program combines fun with trust building between the young people, their caregivers, and law enforcement. The baseball league is open to young boys and young girls and in addiction to teaching the fundamentals of baseball, sessions on leadership, interpersonal skills, conflict resolution, behavior regulation, sportsmanship, and restorative justice are also incorporated into practice time.
"The program is not only about the game and the practices related to it, but then there is also programming related to it so on a weekly basis they might have a session on teamwork or a session on nutrition or a range of other things that help to develop a more positive individual," said Irving. "The goal was to improve the relationships and then, in addition, we got all these extra benefits in terms of sports, and social activity and it's really turned into a phenomenal community event."
The first Police/Youth Baseball League was organized four summers ago in Englewood and Irving noted that the idea came from the Police Superintendent at the time, Gary McCarthy.
"When Gary McCarthy was superintendent, he recognized the difficulty that police officers were having in the communities. On one level, that was an issue and then on another level we also know that young people have a dearth of activities in the summer, especially when they are too young to work, so we looked at what kinds of things they could do that would be safe, social, and productive," said Irving.
To learn more about Get IN Chicago visit www.getinchicago.org.