SOUTH SUBURBAN TOWNSHIP WANTS TO DISPEL COMMON ORGAN DONATION MYTHS
8/8/2018, noon | Updated on 8/8/2018, noon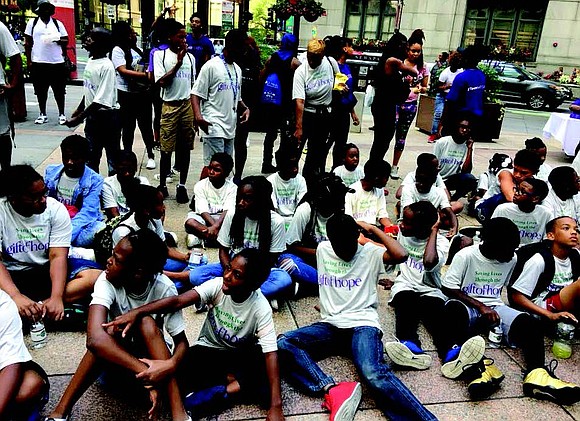 South Suburban Township Wants To Dispel Common Organ Donation Myths
BY KATHERINE NEWMAN
August is National Minority Donor Awareness Month and in honor of that, Thornton Township recently took nearly 100 employees and summer program students to the Gift of Hope Organ and Tissue Donor Network's Wave Away the Wait event at the Thompson Center in downtown Chicago.
The Gift of Hope Organ and Tissue Donor Network is a nonprofit organ procurement organization that coordinates organ and tissue donation and provides public education on donation in Illinois and northwest Indiana. Since 1986, Gift of Hope has saved the lives of more than 23,000 people who were in need of an organ transplant and improved hundreds of thousands of lives through tissue transplants, according to the Gift of Hope's website.
Learning the truth about organ and tissue donation is especially important in minority communities where there are known to be a few misleading myths that circulate from generation to generation and that prevent people from becoming organ donors.
"Minority communities are often in need of organ and tissue donations but we can also have the lowest number of donors. We wanted to bring awareness to this because a lot of times the reason we don't donate to the level that we could is that there are a lot of myths on organ donation," said Ernst Lamothe Jr., community relations manager for Thornton Township.
Some of the most common myths around organ and tissue donation are that registered donors don't receive the same medical care as non-donors or that organ and tissues donation goes against a certain religion.
"I previously was an example of somebody that had heard the myths as well and it wasn't until I worked at a hospital a few years ago, and saw how many people are actually on the waiting list and how much joy families feel when they hear that they are getting a new organ, that I changed my mindset and became an organ donor," said Lamothe.
The event featured speakers including medical professionals, organ donation recipients and their families, and Illinois Secretary of State Jesse White.
"This is something that is not talked about enough in the community so the kids don't necessarily know about the great impact that people can have in this way. Kids anywhere from 9 to 13 years old came to the program and it was just uplifting for them to hear the stories that were told by the adults and even the kids that were there who had a transplant and were much younger than them. That really resonated with them to hear that maybe these kids wouldn't be alive if someone hadn't stepped up and been an organ donor," said Lamothe.
The most impactful information for the adults was learning that there is no religion that formally forbids donation or receipt of organs from living or deceased donors, according to Lamothe. He said that there are several people who have heard the myths their whole lives and never changed their minds because they have never heard the truth about organ donation until now