CHICAGOANS PROTEST METAL SHREDDERS PROPOSED MOVE TO SOUTHEAST SIDE
8/8/2018, noon | Updated on 8/8/2018, noon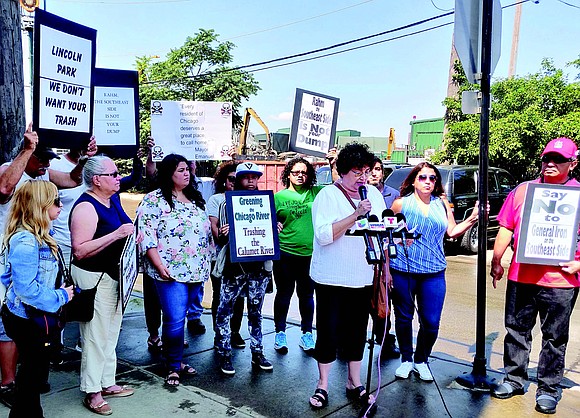 Chicagoans Protest Metal Shredders Proposed Move To Southeast Side
BY KATHERINE NEWMAN
Residents of the southeast side of Chicago along with several environmental activists recently held a protest outside of General Iron's current metal shredding facility, in the Lincoln Park neighborhood, to show their opposition of the company's proposed move to the southeast side of the city.
General Iron is a recycling business that specializes in recycling iron-based and non-iron scrap material. Currently the operation is located at 1909 N. Clifton Ave on the north side of Chicago but a new partnership with Reserve Management Group (RMG), a family of businesses involved in recycling, scrap metal processing, material handling, equipment sales, and property management, will move the recycling facility to the east side of the Calumet River, at South Burley Avenue and 116th Street, where RMG is already located.
Residents of this area are concerned that General Iron will not be a good neighbor and will pollute the air, soil, and water in the surrounding communities.
"I am a lifelong resident of the southeast side so this really hits home for me because this is my neighborhood and my community and I'm a mom so I'm really concerned about General Iron potentially moving to my neighborhood a few blocks away from where I live and directly across the street from the park that I take my son to and the high school I attended," said Gina Ramirez Community Outreach Coordinator for the Natural Resources Defense Council.
In a press release about the move, General Iron said that they are "committed to environmental responsibility and safety in their recycling of approximately 60,000 tons of scrap metal each month. The press release also stated that General Iron and RMG are committed to being good neighbors and responsible stewards of the environment, and together will adopt measures to meet or exceed all environmental standards to provide the greatest protection to human health and the environment."
Unfortunately, the people who are against General Iron becoming their new neighbor don't trust that the scrap metal recycler will live up to its word in this case.
"They just have a really bad track record so it's hard to believe anything that they say because they have been violating Environmental Protection Agency (EPA) standards for decades. I think that's just sort of in their day-to-day business and that's just how they operate so I don't really have faith that they will take responsibility and care for the residents of the southeast side," said Ramirez.
General Iron was most recently cited by the EPA in July for excessive air emissions at the company's Chicago facility.
"I think we live in this 21st century where there are so many different solutions to streamline things and make things green and bringing a metal shredder to the southeast side where there are already so many industries here that are polluting our area is just a terrible idea," said Ramirez.