SUMMER BIZCAMP COMES TO A CLOSE FOR CHICAGO TEENS
8/1/2018, noon | Updated on 8/1/2018, noon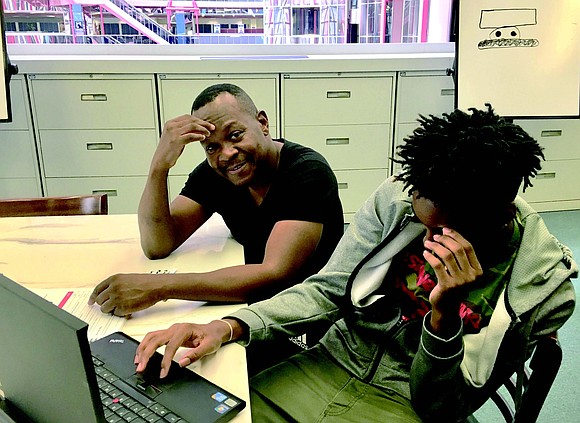 Summer BizCamp Comes To A Close For Chicago Teens
BY KATHERINE NEWMAN
The Network For Teaching Entrepreneurship (NFTE) recently concluded their Summer BizCamp for Chicago's youth. The two-week program, held at the Illinois Department of Innovation and Technology in the Loop, focused on developing the students' soft skills and opening their minds to many different entrepreneurial opportunities and ideas.
NFTE is a non-profit with offices across the country including one in Chicago. The organization operates with the goal of helping young people from under-resourced communities activate their entrepreneurial mindset and builds business skills. The Summer BizCamp focuses even further on this goal by helping students to develop entrepreneurial skills, like how to build and grow and business, and soft skills, like communication and problem-solving, that will be useful through every walk of life.
"As an organization, our focus is on building soft skills, and I would actually prefer to call them power skills. Its a huge aspect to what we do at NFTE and we spend a considerable amount of time and resources studying successful entrepreneurs, how they think and how they become successful," said Scott Nasatir, senior director of programs for NFTE Chicago.
There are eight pillars, or skills, of the entrepreneurial mindset that the Summer BizCamp was focused on. The pillars include initiative and self-reliance, flexibility and adaptability, communication and collaboration, creativity and innovation, critical thinking and problem solving, future origination, opportunity recognition, and comfort with risk.
"All these characteristics that we believe are essential for you to be college and career ready and if we are alba o build these skills and build capacity around these skills we really think that it's something that is going to catapult them in whatever they are going to do in their life," said Nasatir.
Over the course of the two-week BizCamp students are transformed into young businessmen and women and the program ends with students presenting their own business plans that they have been researching and building over the course of the camp.
"The students have come a long way from not knowing what an entrepreneur is to learning how to operate a business and I find that pretty interesting because in just two short weeks kids learn so much information that they can use here in the BizCamp and that they can take to the real world," said Danny Gray, NFTE Summer BizCamp instructor.
Now that the BizCamp is over, students are able to return to their communities with an activated entrepreneurial mindset and a better understanding of how to get from point A to point B when it comes to owning and operating a business.
"The most valuable and interesting thing I learned from the camp, and basically how I've grown from it, is how to take leadership and I've learned about my financial problems," said Michael Riddle, a 15-year-old student who participated in BizCamp. "I can use all the things I learned and put them together to make something new and make a change that will make my whole community a better place."