JOS LUC WEEMS COMPETES IN JUNIOR GOLD CHAMPIONSHIPS: 8 Year Old Bowling Sensation!
8/1/2018, noon | Updated on 8/1/2018, noon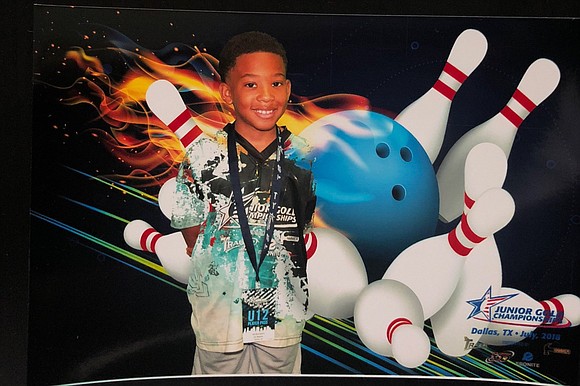 JOS LUC WEEMS COMPETES IN JUNIOR GOLD CHAMPIONSHIPS: 8 Year Old Bowling Sensation! Jos Weems is eight years old competing in the 12 and Under Boys (U12B) Junior Gold Championships bowling division. The Junior Gold Championships is an annual national tournament for the top male and female youth bowlers in the United States. The young bowlers also have the opportunity to earn a spot on Junior Team USA. The tournament has six divisions. Here's a look at Jos's leadership:


Education: Jos is not only a bowler but he is a gifted student at McDade Classical School where he is an A and B student. McDade Classical, one of a few selective enrollment schools on the south side of Chicago, has been ranked Top Five elementary schools in the State of Illinois. He has been student of the month in Kindergarten, 1st Grade, 2nd Grade, and 3rd Grade. This year, he finished number 1 in his class and top 5 in the school's spelling bee.
Language: Jos has taken 4 years of formal Spanish classes. Music: Jos has taken violin and piano lessons.
Karate: Jos is a champion in Kyo-kushin Karate. He has won multiple awards for Kata and has earned his green belt which puts him just one belt (brown - which he will test for Fall 2018) away from being a black belt.
Travels: Jos is a world traveler and has been all over the United States and Puerto Rico. He has also travelled abroad to London, England; Paris, France; Athens, Greece; Madrid, Spain; Amsterdam; Punta Cana, Dominican Republic; Costa Rica, Aruba, Mexico, Dubai, and Cuba.
Jos plans to qualify for the upcoming Junior Gold Championships events. The upcoming events will be in Year 2019 – Detroit, Michigan; and Year 2020 – Indianapolis, Indiana.
Jos's father, Dr. Jerry L. Weems is the head of Thornton Township Illinois Youth & Family Services Department says, "Jos has been working very hard in this competition and looks forward to competing in the future." Jos's mother is Dr. Sharon C. Weems, Forensic Psychologist. Jos Weems is the grandson of United States Bowling Congress Silver Level Coach Jerry Weems.