BETTER MAN THAN ME FOUNDATION PREPARES FOR ROOFTOP AWARDS CEREMONY
8/1/2018, noon | Updated on 8/1/2018, noon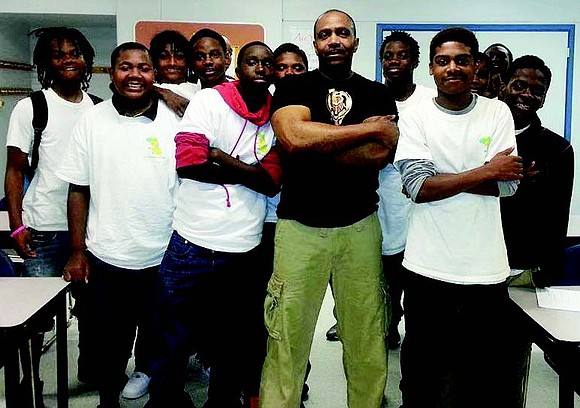 Better Man Than Me Foundation Prepares For Rooftop Awards Ceremony
BY KATHERINE NEWMAN
The Better Man Than Me Foundation is preparing to award their seventh academic scholarship at the Better Man Than Me Rooftop Party on Aug. 17 at the Cliff Dwellers Club. Aside from preparing for the upcoming event, the organization is developing a new 12-week training program for young men and continues to impact the community by providing young men with the tools and information they need to succeed.
The upcoming Rooftop Party is African themed and attendees are encouraged to don their most traditional African garb. The party is a fundraiser for the organization and will feature food, live musical performances, and a fashion show. Tickets are $25 and available on Eventbrite.
"The Better Man Than Me Foundation's mission statement is simply to promote success and responsible stewardship among young men. That's really our goal, to make sure the young men in our community are successful and we do that by offering mentoring and scholarships," said Dr. Paul Phillips, founder and CEO of the Better Man Than Me Foundation.
Growing up on the south side of Chicago with an absent father, Phillips promised himself that as an adult, he would first of all, get an education, because he knew that would be his key to success, and then he would use that education to give back to the community and connect with young men specifically who were struggling in the same ways he did growing up and help them navigate through their challenges.
"I've been mentoring for about 30 years now and I always say that mentoring chose me, I didn't choose it. I feel like it is a calling because I had been doing it but unofficially and it wasn't until about 9 years ago that I decided that this was something that I needed to take more serious and get organized so I could have a greater impact," said Phillips.
Aside from providing mentors and scholarships for young men, The Better Man Than Me Foundation is developing programming for the Better Man University (BMU) which will be a 12-week training program for young men and is estimated to kick-off in the spring of next year. The BMU program will bring in professionals to teach young men skills like app development, entrepreneurship, film production, and music production to help them better prepare for college or have an opportunity to go straight into their preferred career field right after high school.
"A lot of times young men have a dream and they go out to reach their goal and fulfill their dream but as soon as they reach a challenge they stop. I can guarantee you there will be challenges," said Phillips. "If you work hard, trust God, and do good, I am a firm believer that good things will come back to you."
To connect with Dr. Phillips, visit www.bettermanthanme.org or send him a message on facebook.