Alderman Tells Small Businesses Owners To Take Advantage Of Education Programs
8/1/2018, noon | Updated on 8/1/2018, noon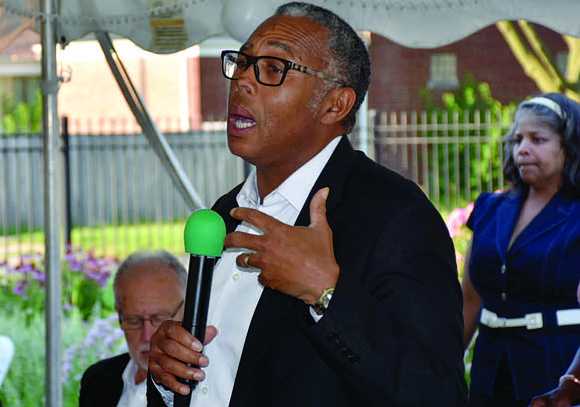 Alderman Tells Small Businesses Owners To Take Advantage Of Education Programs
Alderman Howard B Brookins Jr. represents the Chicago's 21st Ward and recently hosted a Small Businesses Networking event at Aubrey's Garden, 9315 S. Ashland Ave., adjacent to Brookins Funeral Home in the Brainerd neighborhood. The networking event was held in partnership with Goldman Sachs and their 10,000 Small Businesses program.
Goldman Sachs 10,000 Small Businesses program provides business education and helps participants develop their own individualized business growth plan. The program also helps small business owners build a strong network of peers and advisers. During the program business owners are able to learn practical skills to grow their business like how to negotiate, good marketing techniques, and employee management. Participants also receive a personal business advisor and expert advice from Goldman Sachs professionals.
Currently, the program is being offered at no cost to participants but there are a certain set of qualifications that must be met for acceptance into the program. Business owners wanting to participate in the Goldman Sachs 10,000 Small Businesses must generate at least $150,000 in annual revenue, be established for two or more years, employ at least 4 full-time or 8 part-time or 1099 employees and be located within 2-hour radius of Harold Washington College where the program is hosted.
"Too often in the community we are not networking and talking to the person next to us who could have the information and the key to our success and because we are not talking about it or imparting that information to others, it gets lost and our community suffers as a result of it. I'm asking, if you can benefit by this please take advantage. If you know somebody that could benefit from this, tell them to take advantage," said Brookins.
The Alderman was passionate and encouraging as he spoke about the importance of community members becoming entrepreneurs in their own neighborhoods.
"I tell everyone that asks me about how we can grow our community that we will grow the community when the people within the community step up and decide to be entrepreneurs. If you drive by and you see a vacant hot dog stand and it's been there for 20 years, don't get mad when someone from out of the community comes and takes advantage of that opportunity," said Brookins.
Alumni from the Goldman Sachs 10,000 Small Businesses program participated in a panel discussion to share the new success that their businesses saw as a result of the program. They all spoke about the help they received in creating a growth plan, the engaging environment and valuable conversations they had with their peers and business advisors, and the continuing support of the business network that they became a part of as a Goldman Sachs alumni.
"If you see an opportunity and you go out and take advantage of that, it will help our community and it will grow our community. That is what we are trying to do by hosting this," said Brookins.