$6.5 MILLION INVESTMENT ESTABLISHES ENTREPRENEURS OF COLOR FUND IN CHICAGO
8/1/2018, noon | Updated on 8/1/2018, noon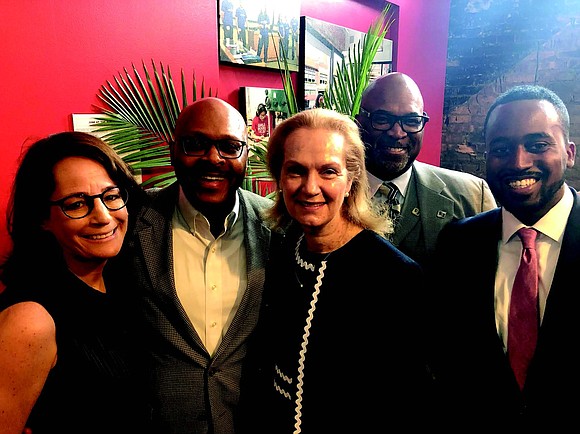 $6.5 Million Investment Establishes Entrepreneurs of Color Fund in Chicago
BY KATHERINE NEWMAN
It was recently announced that JPMorgan Chase and Fifth Third bank together will be investing $6.5 million to support small businesses on Chicago's south and west sides. The generous contributions will launch the Entrepreneurs of Color Fund and with the help of the Local Initiatives Support Corporation (LISC), Chicago entrepreneurs of color will have an easier time accessing capital to grow their businesses.
Currently, LISC Chicago operates as a lender for small businesses in the community but until now, they have still been limited by the typical constraints of business lending like having to place higher interest rates on loan applicants with lower credit scores, a lack of collateral, and without an approved co-signer. Now, with the Entrepreneurs of Color Fund available, LISC will be able to be more flexible and provide better lending options to their clients.
"In a lot of our neighborhoods where there has been significant disinvestment there is also a lack of accessibility to homeownership
opportunities or even access to jobs where you could build some wealth and buy some housing and if you don't have that, you can't access the credit and in which case you can't build your small business," said Meghan Harte, executive director of LISC Chicago.
For quite sometime, LISC has been working to close what they see as an obvious gap in opportunity and are now several steps closer with the help of JPMorgan Chase and Fifth Third Bank.
JPMorgan Chase also saw the gap in business opportunities and started their first Entrepreneurs of Color Fund in Detroit in 2015. By Dec. of 2017, the Fund in Detroit had tripled in size and since it's launch, the Detroit Fund has lent or approved $5.32 million to 52 minority small businesses. Similar funds were also created in San Francisco and South Bronx earlier this year, according to a press release about the Entrepreneurs of Color Fund.
According to Harte, there are three ways that the Entrepreneurs of Color Fund will impact on Chicago's south and west side communities. First, it will grow locally owned businesses which will in-turn build wealth in the community and the Fund will stabilize small businesses that want to expand or improve their businesses but haven't been able to access the capital until now. Second, it will create many more jobs in the neighborhood. Third, it shows potential investors that these communities are vibrant, have purchasing power, and can sustain businesses which will attract more investment in the community.
"For other financial institutions, look at what Chase is doing for entrepreneurs of color and see what you can do to add to that because it's a great investment. We know that these businesses are good and safe bets and we are going to prove that through Entrepreneurs of Color and we challenge other financial institutions to take a look and do the same thing," said Harte.