LOCAL ORGANIZATION THAT FOUGHT FOR TRAUMA CENTER IS PROUD TO SEE IT OPEN
4/25/2018, noon | Updated on 4/25/2018, noon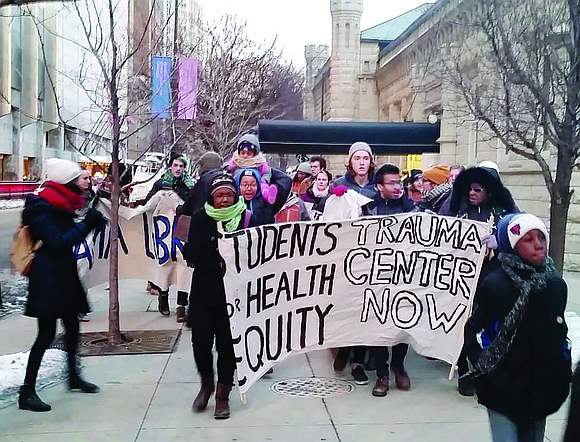 Local Organization that Fought for Trauma Center is Proud to See it Open
BY KATHERINE NEWMAN
The University of Chicago Medicine will be opening their new state-of-the-art level one adult trauma center at 8 a.m. on May 1. Bringing an adult trauma center to the South Side of Chicago has not been an easy task, but a coalition of local organizations took it upon themselves to champion the trauma center campaign that has been taking place for the last several years.
The trauma program will include violence recovery and wraparound services designed to help trauma patients successfully transition back into the community, including outpatient psychiatric, behavioral health and social recovery care, according to the University of Chicago Medicine. These services are something that neighborhood desperately needs.
"The trauma center was really just a prime example of an unequal access to resources and an inequality with respect to critical health services and it had an inordinately pronounced impact on people on the South Side and actually people in Hyde Park and nearby areas where the incidence of gun violence is higher than in other parts of the city," said Judy Levy, executive director of the Jewish Council on Urban Affairs (JCUA).
The JCUA is a Jewish social justice organization and was one of the six organizations that made up the Trauma Center Coalition that worked tirelessly to demand that the University of Chicago open an adult trauma center.
"Within the coalition, we all worked very specifically together to map out what our strategies were. We worked with members of our own communities who were in positions that may have some influence over the decisions that were made around the trauma center, but we also worked on a larger scale with coalition members to figure out who the primary targets in the city were that needed to be persuaded to call on the University of Chicago to do the right thing," said Levy.
The trauma center coalition included the JCUA, Southside Together Organizing for Power (STOP), Kenwood Oakland Community Organization (KOCO), National Nurses United, Students for Healthy Equity, the Prayer and Action Collective.
When the University of Chicago Medicine opens the adult trauma center, it will mark the first in 27 years that an adult trauma center has operated on the South Side of Chicago, according to the University of Chicago Medicine.
"We are thrilled. We were proud and honored to have been able to work with the coalition on this critical issue. It's really exciting when people in the community can come together and effect real change in this way and it's going to save lives," said Levy.
The University of Chicago Medicine trauma center will be equipped with the resources and staffing necessary to provide comprehensive, specialized care 24/7 for patients who suffer a traumatic injury. A traumatic injury could include anything from a motor vehicle crash or gunshot wound to a severe burn and fall.
For more information on the JCUA visit jcua.org. To Learn about the University of Chicago Medicine Trauma Center visit www.uchicagomedicine.org.