Funeral Held for Long Time Chatham Restaurant Owner
4/25/2018, noon | Updated on 4/25/2018, noon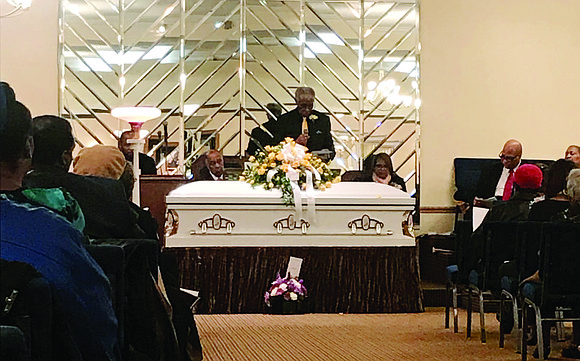 Funeral Held for Long Time Chatham Restaurant Owner
BY KATHERINE NEWMAN
In 1957, Izola White opened Izola's Fine Dining Soul Food Restaurant at 522 E. 79th St. and for over 50 years after the restaurant was opened, it grew to become a staple of the Chatham community. Ms. White passed away on April 10 and funeral services were held for the late restaurant owner at Leak and Sons Funeral Home on April 19.
"Izola had a secret desire to ultimately own and open her own restaurant that would specialize in serving the best soul food in town. Although a high-risk business in and of itself, Izola added to the pressure of the restaurant business by making a commitment to being open 24-hours a day, six days a week," said Sherman Nelson at her funeral last week.
Over the year many people would go to Izola's Restaurant not only for food, but to talk to White and learn from her wisdom, including Dorothy Brown who now serves as clerk of the Cook County Circuit Court. She remembers White and Izola's Restaurant as an important part of her young political career.
"Izola was a friend and mentor to me as a newly elected official trying to navigate the rough waters of Chicago. It was always nice to be able to go to Izola's and have her give me advice. You all know that Izola would give tough advice, but she was always there," said Brown. "I really appreciated having Izola there to make me even tougher. You don't always need people to just say yes to you all the time, you need people to tell the truth and that's what she did for me."
Community members, including Brown, knew that they could always count on Izola's Restaurant to be open and accommodating to any and all of their personal or professional needs.
"What I really appreciated about the restaurant, because many of us had our meetings there, was that if I needed to have a meeting at 10 or 11 p.m., I knew I could say to whoever I want to meet with that I knew a place that was open 24-hours and we could go there. Izola helped me to have a place to meet and to shape my campaigns early," said Brown.
The funeral held for White felt like a jump back in time to those days at Izola's Restaurant. There was a group of about 15 men occupying the back four or five rows of seats on the right side of the chapel who were reminiscing about the memories they have of White and their experiences at her restaurant. If you closed your eyes, it almost sounded like they were all still sitting around the table eating ham hocks together at Izola's Restaurant.
During that time, Army and Lou's, another black-owned soul food restaurant, was operating at 422 E. 75th St. and subsequently closed in 2011. This marked the end of an era on the South Side of Chicago.