Emotional Wellness Workshops Held in South Suburbs
4/18/2018, noon | Updated on 4/18/2018, noon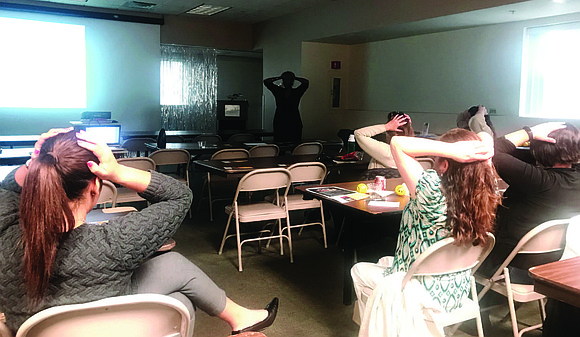 Emotional Wellness Workshops Held in South Suburbs
BY: KATHERINE NEWMAN
The Blue Island/Robbins Neighborhood Network has been holding emotional wellness workshops on Tuesday nights throughout the month of April. The final workshop of this series will provide information on understanding alcohol and substance use and abuse. It will begin at 5:30 p.m. on April 24th at the Hudson Academy Foundation in Robbins.
The Blue Island/Robbins Neighborhood Network is part of the United Way of Metropolitan Chicago and brings together community members and stakeholders, like schools, businesses, churches, and hospitals, to develop a strategic plan that addresses community issues and how to solve them.
"What we wanted to do was create this series of workshops to deal with emotional wellness. We created them to focus on some of the obstacles that our residents see at home, at school, and in the community and it's focused on things that can help the family," said Kentrick Benson, Blue Island/Robbins Neighborhood Network Project Coordinator for Metropolitan Family Service.
The workshops are being led by various health service providers who make up the healthy lifestyle committee for the Blue Island/Robbins Neighborhood Network. The workshops help to connect residents of Robbins and Blue Island with the health care resources that are available to them.
"One thing that we found as we began to create the network was that there are lots of resources in our community but not many of the residents know how to access them. Quite frankly, not a lot of them know that these resources exist especially when it comes to mental health. People knew about the hospitals, but in our communities, with health care being the way that it is, lots of times they only go to the hospital in the case of an emergency," said Benson.
The Blue Island/Robbins Neighborhood Network used their community cafe's and other opportunities of engagement to find out what residents are struggling with at home and what some of their concerns and issues are within the community. Based on this feedback the broad theme of emotion wellness was chosen along with the detailed topics for each of the four workshops.
"We wanted to put some resources out there for our community to access. We're not really focusing on these as mental health workshops but mores as workshops that deal with emotional issues. We wanted to make sure they were inviting and open to the community so people would want to take advantage of it," said Benson.
The final workshop focuses on drug and alcohol abuse which Benson said is something that has become more prevalent in the community. It became important to address when Benson realized that there are a good amount of people in the community who can't pass a drug test which limits their employment opportunities.
To learn more about the blue Island/Robbins Neighborhood Network and for more information on attending the final workshop visit www.servebir.org.