All Girls STEM School Hosts Annual Girl Power Luncheon
4/18/2018, noon | Updated on 4/18/2018, noon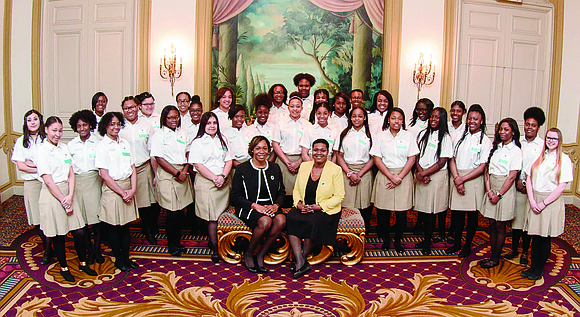 All Girls STEM School Hosts Annual Girl Power Luncheon
BY KATHERINE NEWMAN
The Young Women's Leadership Charter School of Chicago (YWLCS) recently hosted their annual Girl Power Luncheon at the Hilton Chicago. The event celebrated the accomplishments of YWLCS students and featured a panel discussion to accentuate the need for more women in government, STEM fields, and the workplace in general.
The YWLCS was founded in 1999 and is the only all-girls STEM (Science, Technology, Engineering, and Math) charter school in Chicago. There are nearly 350 young women who attend YWLCS and the school boasts a 100 percent graduation and college acceptance rate, according to a press release from the YWLCS.
"It was my goal when I came here to revitalize our mission which says that we inspire urban girls to engage in rigorous college preparatory learning in a small school environment that focuses on Science Technology and Math," said Dr. Vanesa Scott-Thompson, principal of YWLCS.
In the fall, YWLCS will introduce two new engineering classes, introduction to
engineering and principals of engineering, that will make them a full STEM school, according to Scott-Thompson.
"I am so committed to making sure we live up to our mission and to make sure the girls have science, technology, engineering, and math because it impacts every part of our lives and if you think about it, people who are working in these fields do not look like us and they are primarily men so I'm trying to make sure we have a women's pipeline," said Scott-Thompson.
The school offers a mentor program that connects senior students with women working in STEM careers who commit to helping the students get prepared for college and providing them with support at least through their first two years of college, according to Scott-Thompson.
Darielle Kennedy, 2018 valedictorian of YWLCS, has been working with her mentor Tammera Holmes, president and CEO of AeroStar Corporation, all year to prepare for college.
Originally, Kennedy planned to pursue a career in aerospace engineering like Holmes, but after meeting students from different parts of the world, she changed her passion to political science and believes in her own power to be an ambassador and an advocate for African people around the world.
Another student, Kiarra Pearson, is a junior at YWLCS and has already been working with her mentor Anne Pramaggiore, the CEO of ComEd.
"Since I met Anne she has been in my ear helping me to prepare for college and trying to get me into different programs to make my resume look really nice," said Pearson. "I want to come out of my senior year with straight A's so I can get as much money as I possibly can to go to college."
Both girls are thankful for what they have learned from their mentors and the impact that YWLCS has had on their futures.
"Young Women's has really impacted my life to be more socially aware of what goes on around me and be aware that people do look at me and see what I'm doing," said Kennedy.