Exhibit Explores the History of Racism in Chicago
4/11/2018, noon | Updated on 4/11/2018, noon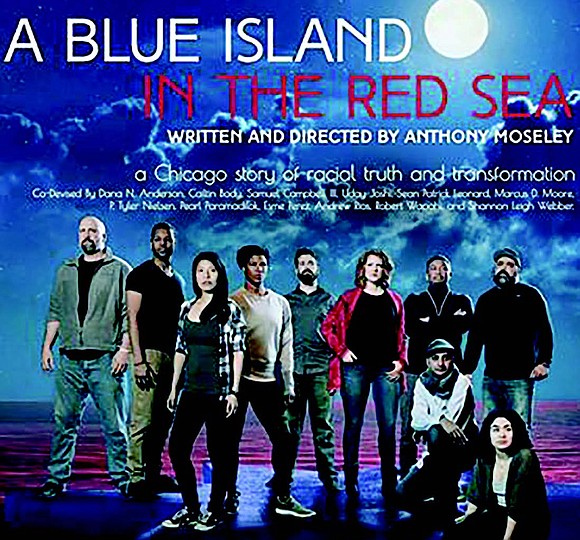 Exhibit Explores the History of Racism in Chicago
CHICAGO- Welcome to the Grand Opening of the new Chicago Racism Museum, where community leaders and residents are gathering for a multimedia - and meta-theatrical - exhibit that explores the history of racism in Chicago.
That's the opening of A Blue Island in the Red Sea, a world premiere live theater docudrama that exposes the history Chicagoans often try to forget.
Performances are April 12-May 20, 2018 in The Pentagon at Collaboraction Studios in the Flat Iron Arts Building, 1579 N. Milwaukee Ave., in Chicago's Wicker Park neighborhood.
Tickets are $15-30; $5-$15 for students, educators and industry. For tickets and information, visit collaboraction.org or call (312) 226-9633.
After its successful tour of Encounter, a mixed medium festival about racism and racial healing that toured Wicker Park, Lincoln Park, Hermosa, Austin and Englewood, Collaboraction continues to explore the harsh reality of systemic racism in Chicago with A Blue Island in the Red Sea.
Collaboraction's 2017-18 season finale is an original devised new work that presents a diverse cast of Chicagoans in a meta-theatrical live experience intended to open eyes and further the conversation about racism and racial healing in Chicago.
A Blue Island in the Red Sea, written and directed by Collaboraction Artistic Director Anthony Moseley, was created through open workshops in collaboration with a team of community members, actors and designers.
"The resulting work takes audiences on a whirlwind journey from the time before the city of Chicago was founded through the formation of the segregated city we know today," explains Moseley. "Whether it's Chicago's history of locking up black and brown people, going all the way back to DuSable, or the inherent racism in the dress code today at Bottled Blonde, we are using theater to encourage an honest conversation about critical issues surrounding race to cultivate truth and transformation in the Windy City."
Previews of A Blue Island in the Red Sea are Thursday through Saturday, April 12, 13 and 14 at 7:30 p.m.; Sunday, April 15 at 3 p.m.; and Tuesday, April 17 at 7:30 p.m. No show Thursday, April 19. Performances continue through May 20: Thursday, Friday and Saturday at 7:30 p.m. and Sunday at 3 p.m. Industry nights are Monday, May 7 and 14 at 7:30 p.m.