WOMEN'S ENTREPRENEUR AND BUSINESS FORUM HELD IN SOUTH SUBURBS The Women's Entrepreneur and Business
4/4/2018, noon | Updated on 4/4/2018, noon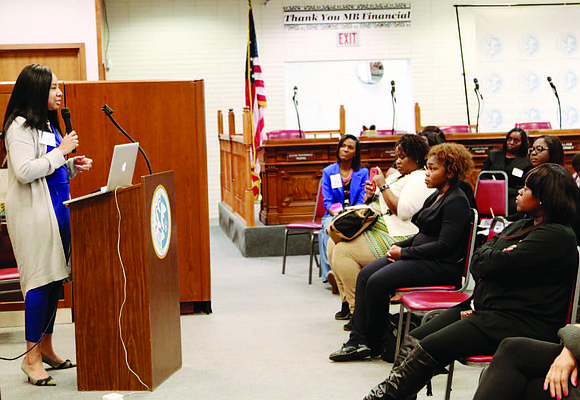 Women's Entrepreneur and Business Forum Held in South Suburbs
BY KATHERINE NEWMAN
The Women's Entrepreneur and Business Resource Forum was recently hosted by the Village of Dolton. The forum called on local entrepreneurs and business professions from all around Chicago to gather, network, and share tips and tricks of the trade.
Some contributors included the U.S. Small Business Administration, Women's Business Development Center, Chicago Women in Trades, Push Out Purpose, and The Far South Community Development Corporation.
Lead Economic Development Specialist for the U.S. Small Business Administration's Illinois division, Carole Harris, spoke at the event to encourage women to take the next step in opening or expanding their businesses. She said the most important part is staying positive and having a clear vision.
"Take the time to look at what your vision is and be able to articulate that vision. Carry your vision forward in the positive and you will have really good results as you work with advisors. Carry forward and say, this is what I envision, this is what I'm looking to do, and here are my questions," said Harris.
Senior Director for Business Services at The Far South Community Development Corporation, Florence Hardy, was another speaker at the event and gave advice on how to turn a hobby into a business.
"The question that you need to be asking as you move from a home-based business to a brick and mortar is, what are the strengths and weaknesses and opportunities that can be taken advantage of as you make that move?" said Hardy.
It is also important to consider logistics when looking for a retail space, said Hardy. She advised business owners to use a realtor and look for spaces that have already been occupied by a business like theirs.
"Really consider demographics, think about pricing, think about ease of parking and access, all of these things matter when you think about the location which is why a lot of times it helps to use a commercial real estate agent because they have that expertise," said Hardy.
This event stemmed from Mayor of Dolton, Riley Rogers wanting to go even further than just improving the unemployment rate which he has done since being elected in 2013.
"When I came into office, we had 15.7% unemployment so one of the many things I wanted to do was try and get businesses in town and have those businesses employ some of those residents. We went from 15.7% unemployment to 6.7% unemployment.
The next step is, if we can't get everybody hired, maybe we can get people into their own business which would make them gainfully employed and able to support their own families and they can flourish," said Rogers.
Rogers said that he was able to cut the unemployment rate in half by demanding that any business wanting something from the city, like a speedy permit or a tax break, must hire a certain amount of residents from Dolton.
For more information on the resources provided at the event or to view upcoming events visit vodolton.org.