Men's Lifestyle Brand dotGREY Makes Bold Entry Into Men's Skincare Industry
4/4/2018, noon | Updated on 4/4/2018, noon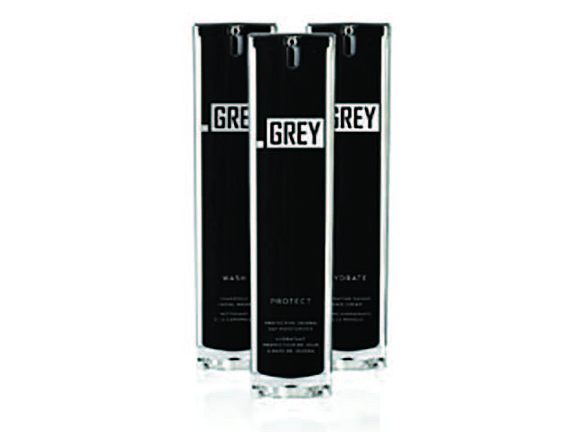 New Chicago-based Men's Lifestyle Brand dotGREY Makes Bold Entry Into Men's Skincare Industry Life can be complicated. Scratch that. Life IS complicated. But .GREY (pronounced "dotGREY") is changing the game in skincare for today's man. Founded in Chicago, Illinois in 2017, dotGREY is revolutionizing skincare for men in the form of three amazing, high-performing products made with natural ingredients, designed to cleanse, protect and hydrate. "Best Face Forward" is the motto of the skincare line, which includes a facial wash, daytime moisturizer and nighttime face cream crafted for the modern man.
BEST FACE FORWARD IN THREE SIMPLE STEPS:
WASH—Chamomile Facial Wash— 40 ML/1.35 FL OZ – $39. With powerful, natural ingredients such as chamomile, red clover and white willow bark extract, dotGREY facial wash includes active cleansing ingredients that leaves one's face feeling fresh, healthy, smooth and energized.
PROTECT— Jojoba Day Moisturizer— 40 ML/1.35 FL OZ – $59. Infused with Jojoba, avocado and grape seed oils, dotGREY daytime moisturizer protects from harmful elements and nourishes the skin with a combination of natural ingredients that add the perfect amount of moisture.
HYDRATE—Mango Face Cream— 40 ML/1.35 FL OZ – $59. Great things happen at night. And the dotGREY nighttime face cream detoxes harmful chemicals, replenishes critical nutrients and rehydrates parched skin from the day's stress. Powered by the earth's most robust oils— olive, sunflower, grape seed, aloe vera gel and exotic mango oil, dotGREY nighttime Face Cream helps to reduce scars and inflammation and fight aging. Wake up restored.
WEAR YOUR BEST SELF—THE ULTIMATE SKINCARE EXPERIENCE—$139. You work hard and your skin deserves the ultimate treatment. The entire skincare collection can be purchased for $139, a 12% savings. ($157 if purchased separately).
For more information about dotGREY, visit dotGREY.life. For product questions, email care@dotGREY.life.