Google Hosts Technology Workshops For College Students
4/4/2018, noon | Updated on 4/4/2018, noon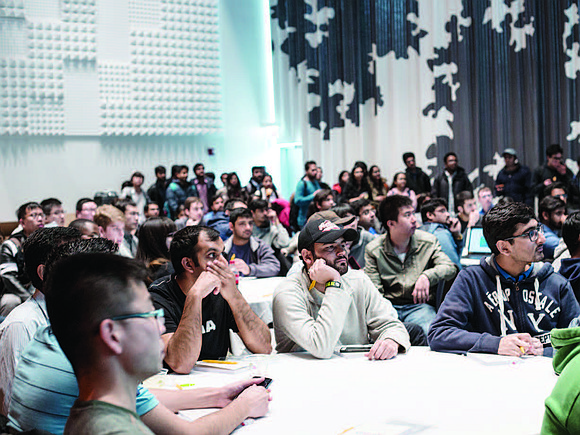 Google Hosts Technology Workshops For College Students
BY KATHERINE NEWMAN
The Illinois Institute of Technology (IIT) recently hosted two days of Google Workshops for students. The workshops were led by the school's alumni who now hold positions at Google. Students were given the opportunity to learn, ask questions, and network with professionals from Google.
This is the sixth semester in a row that IIT alumni have returned to campus on behalf of Google to work with current students, according to BJ Engelhardt, director of operations for career services at IIT.
One workshop focused on Design Thinking, a process for creative problem solving which uses a user-centered approach towards creating technologically feasible and economically viable solutions.
The second workshop was an information session, the Google Cloud Platform, which is helping to power the future of business with
unparalleled safety and security.
Students were exposed to the basic framework and technical challenges behind the giant engineering effort.
The final aspect of this semester's collaboration between IIT and
Google was a resume review day.
Students were able to sit down with working professionals and get
advice on their resumes and tips for interviewing for future jobs and
internships.
"I think it gives our students the kind of professional development
experience that they are craving.
The students like to hear from professionals in the companies
that they want to work for as opposed to hearing it from a career
service professional, like myself.
A lot of times they give a little bit more credence to advice coming
from a working professional," said Engelhardt.
Through the workshops and events hosted by Google at IIT, the students have been able to connect with job opportunities early and receive feedback from professionals within the company, making them better candidates for open positions.
"We have definitely seen an increase in the number of students being hired by Google over the last couple of years. In terms of the number of students recruited right after graduation, Google has been the second or third highest hiring company for the past couple years, meaning that they hire the third most graduates from IIT," said Engelhardt.
"We have really started to develop a nice pipeline, I think this past spring, there were five of our students that went off to Google and
that has been pretty typical each year."
"I think that it is a great experience for our students and even if it doesn't necessarily lead to a job at Google, it is helping them develop
their creative thinking skills in a way that goes beyond the classroom," said
Engelhardt.
For more information on programs at IIT and upcoming events visit www.iit.edu.