Zerina Akers, Fashion Stylist to the Stars Shares Top Beauty & Fashion Solves and Happiness
9/13/2017, 12:21 p.m. | Updated on 9/13/2017, 12:21 p.m.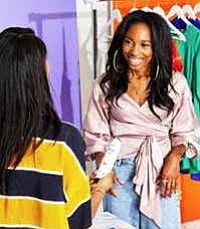 Zerina Akers, Fashion Stylist to the Stars Shares Top Beauty & Fashion Solves and Happiness
Zerina Akers is a fashion stylist who's worked with some of the biggest names in the industry. Akers is currently the personal stylist and wardrobe
curator for Beyoncé Knowles- Carter. Her influence recently gained her a buzz-worthy feature on Vogue.com last year discussing her plans for Beyoncé's ever-evolving style transformation. Zerina's client list has also included Chloe and Halle, Ava DuVernay, and Yara Shahidi.
Akers is no stranger to fashion—she started as a fashion closet intern at W Magazine, she worked amongst talents like Alex White, Karl Temper,
Camilla Nickerson, and Shiona Turini. Afterwards, she began freelancing at W and other fashion publications such as WWD and Harper's Bazaar. In
between pursuing a Bachelor's degree in Fashion Merchandising and Marketing from L.I.M., she worked under the tutelage of fashion's most accomplished stylists and editors, such as Camilla Nickerson, Lori Goldstein and B. Ackerlund.
Throughout the trajectory of her career, whether curating celebrity's wardrobe or styling an ad campaign, Akers has proven to be an extremely passionate risk taker or self proclaimed "you-only-live-oncer." Always willing to go against the grain, she loves experimenting with '7os disco and '80s style, drawing inspirations from nature, history and mixing low-end with high-end brands.
For Akers, fashion is not only about luxury; it's about inspiring her clients to express their authentic selves. Beyond the brand names and glitz, style starts with the person first. She cares deeply about
motivating people to take a confident and secure approach to fashion, helping them select pieces they'll really love. Effectively, she aims to celebrate each client's differences, beauty and all of the things that contribute to the unique spirit of each person. Whether she's helping clients build a strong closet, searching for new designers, or rebranding commercial style, Akers is always on the move. As she embarks on the next chapter of her career, follow the journey on ZerinaAkers.com.
Zerina shares her Top Beauty & Fashion Solves When garments start to pill from the wash, you can remove the fuzz with a razor. Simply run the razor lightly over the area and then carefully remove the pieces that collect in the razor. Repeat until all the pills are gone!
Did you just NEED to have those leather loafers that were on sale but maybe just half a size too small? Put on a pair on thick socks and slip your feet into the shoes. Take a hairdryer and on medium heat, start to warm up the shoes. This will help the leather stretch and mold to your feet.
Avoid dealing with pesky white marks and trying to remove the stain using various methods – dryer sheets, rubbing fabric together, sponges,
etc. – by using Dove Invisible Dry Spray Antiperspirant. It goes on invisible to leave no white marks on 100 colors of clothing.
When a zipper just won't budge you can rub a bit of Vaseline along where it is stuck. The Vaseline will help the zipper slide and wiggle free!
If a button is loose and you don't have time to re-sew it into place, take some clear nail polish and dab it on the knot, then hold the button in place for a minute. It acts as glue and will make it more secure until you can get a proper fix!
Have a run in your stockings? Prevent it from growing bigger with hairspray. Simply spray the area where the run started and it will hold the fabric together.