PARAMOUNT THEATRE RACKS UP 15 JEFF AWARD NOMINATIONS
9/6/2017, noon | Updated on 9/6/2017, noon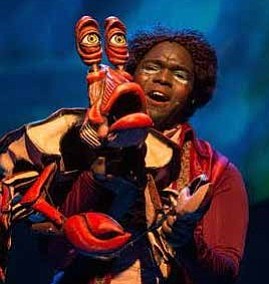 PARAMOUNT THEATRE RACKS UP 15 JEFF AWARD NOMINATIONS
Chicago's Joseph Jefferson Committee recently announced the 2016-17 Equity Jeff Award nominees with the Paramount Theatre Broadway musical series productions earning 15 nominations for outstanding performance, direction and/or design in Chicago theater last season.
Two of Paramount's four 2016-17 Broadway series
productions – Disney's The Little Mermaid and Sweeney
Todd: The Demon Barber of Fleet Street received multiple
nominations, including the biggest honor, Best Production-
Musical-Large.
Additionally, all four of Paramount's 2016-17 productions,
including Jesus Christ Superstar and Mamma Mia! – received
nominations.
The full list includes:
Disney's The Little Mermaid – 6 nominations
Production-Musical-Large
Supporting Actor, Musical: Jonathan Butler-Duplessis
(Sebastian)
Scenic Design, Large: Jeffrey D. Kmiec
Costume Design, Large: Theresa Ham
Lighting Design, Large: Jesse Klug
Puppet Design: Jesse Mooney-Bullock
Sweeney Todd: The Demon Barber of Fleet Street – 6
nominations
Production-Musical-Large
Director, Musical or Revue: Jim Corti
Principal Actor, Musical: Paul-Jordan Jansen (Sweeney Todd)
Principal Actress, Musical: Bri Sudia (Mrs. Lovett)
Music Direction: Tom Vendafreddo
Lighting Design, Large: Nick Belley and Jesse Klug
Jesus Christ Superstar – 2 nominations
Supporting Actress, Musical: Felicia Boswell (Mary Magdalene)
Lighting Design, Large: Greg Hofmann
Mamma Mia! – 1 nomination
Projection Design: Christopher Ash
"The Jeff Committee, the critics and our audiences clearly
agree - Paramount is producing many of the very best musicals in the entire Chicagoland area," said Paramount President and CEO Tim Rater. "This is our third consecutive year for multiple nominations across the board, a nod to not only the excellent work being produced on our beautiful stage, but the consistently top-notch production values that rival theaters anywhere in Chicago, on Broadway and around the nation."
Paramount Artistic Director Jim Corti, who earned an
individual Best Director nomination for his production of
Sweeney Todd last season, added, "I'm grateful to the Jeff
Committee, and thrilled for our creative and technical teams
for this much-deserved recognition of their work on stage and behind the scenes."
Last season, Corti's production of West Side Story received the night's top honor – Best Musical/Large Theater – at the 2015- 16 Jeff Awards, marking Paramount's second consecutive Jeff Award for Best Musical. Les Misérables won both Best Musical/ Large and Best Director for Corti in 2014-15. Paramount's work has been eligible for review by the Jeff Committee for just the past three seasons. In its first year of eligibility in 2014-15,
Paramount was honored with an unprecedented 16 Jeff Awards nominations, winning five. Last season, Paramount snared 14 Jeff Award nominations and won three.
Mark your calendars: the 2016-17 Jeff Award winners will
be announced November 6, 2017. To see the full list of nominees, visit jeffawards.org.