ILLINOIS WORKERS, LEADERS CONTINUE TO CHALLENGE RAUNER'S MINIMUM WAGE VETO
9/6/2017, noon | Updated on 9/6/2017, noon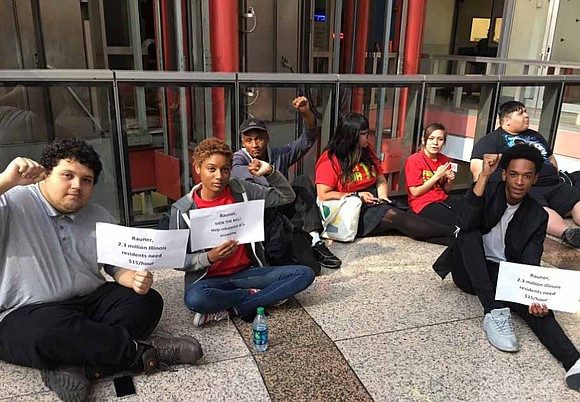 ILLINOIS WORKERS, LEADERS CONTINUE TO CHALLENGE RAUNER'S MINIMUM WAGE VETO
By Christopher Shuttlesworth
In the recent wake of Governor Bruce Rauner's veto of an $15 minimum wage hike, community workers from the Fight for $15 organization gathered and held a protest inside of the James R. Thompson Center, located 100 W Randolph St. Illinois' current minimum wage has stood at $8.25 cents for more than a decade. Rauner vetoed Senate Bill (SB) 81, which was set to raise the statewide minimum wage to $15 an hour by year 2022.
SB-81 bill would have generated $2.3 billion in revenue and raised wages for more than 2 million Illinois workers, including half of the state's African American and women workers and 60 percent of Latino workers, according to a Fight for $15 press release.
"Billionaire Rauner just stole food out of my son's mouth and blocked raises for 1 in 3 working people across Illinois," Adriana Alvarez, a McDonald's worker stated in the Fight for $15 press release. "We're here to let him know that this isn't the end, it's just the start."
The proposed $15 wage increase would have begun to rise to $9 per hour from January 1, 2018 to December 31, 2018; to $10 per hour from January 1, 2019 to December 31, 2019; to $11.25 from January 1, 2020 to December 31, 2020; to $13 per hour from January 1, 2021 to December 31, 2021; and to $15 per hour on January 1, 2022, according to the Illinois General Assembly.
Rauner explained in his veto message for SB 81 that while helping low-income families get out of poverty is a top priority, recent economic evidence proves this bill would have done the total opposite.
"Researchers at the University of Washington, found that for every 10 percent increase in the hourly earnings of low-wage workers, there would be a 30 percent reduction in employers providing those jobs," Rauner said.
"This research implies that Senate Bill 81 will result in a net reduction of earnings for low wage Illinoisans in excess of $1,500 per year." Illinois Senator Kimberly A. Lightford said Rauner's stance on SB 81 doesn't surprise her because he is known for irresponsibly cutting programs that help impoverished communities.
"Throughout his term he has irresponsibly cut the child care assistance program, held up grant money for low-income college students and caused severe damage to our social services through a historic budget stalemate," Lightford said.
Lightford said she will remain optimistic and will continue to fight for the minimum wage increase of $15 per hour because working families deserve to live and thrive.
"I think our families deserve it," Lightford said. "When you work every day on a full time job, you want to make sure your ends meet. You really don't want to rely on government assistance because you're working and you want to make sure you're able to take care of your family."
Illinois taxpayers pay $5 billion per year in public assistance to make up for low wages, paid by corporations like McDonald's, according to a Fight for $15 press release.
"The millions of underpaid workers in this state will remember Rauner taking food off our families' tables when we go to the polls in 2018," Alvarez said.
Rauner expressed in his veto message for SB 81 that Illinois needs to seek comprehensive solutions that grow the economy and the number of jobs available where individuals can train, grow and attain better lives for them and their families.