CCC HOSTS SILAS PURNELL COLLEGE EXPO
9/6/2017, noon | Updated on 9/6/2017, noon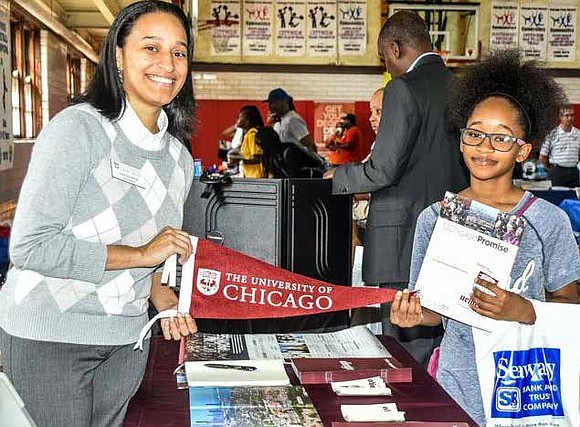 CCC HOSTS SILAS PURNELL COLLEGE EXPO
By Christopher Shuttlesworth
On September 16, 11:00 a.m. at Tuley Park Field house on
90th & King Drive., the Chesterfield Community Council (CCC)
will host the 13th Annual, "Silas Purnell College Expo."
The event exposes high school students to college admissions representatives and financial aid opportunities at various universities including Historically Black Colleges and Universities (HBCU's).
"One of the things our people have a problem with is that we expose our kids too late in life about colleges or universities," said Eli Washington, a representative for the Chesterfield Community Council.
"But other ethnic groups start at a young age. They are
White and Asian kids…by the time they are in sixth grade they know what college they are attending."
Washington explained that the Silas Purnell College Expo will help put high school students on the right track for finding the best financial plan for college.
"Most of our African American parents don't have money or the resources to save for college and send their kids away for four years," he said. "College is expensive."
Washington said the expo will also include seminars where college students will share their first year experiences with local high school students.
Cameron McCoy, a Gates Millennium Scholars (GMS) winner and a sophomore at the University of Illinois, will discuss his experience on being away from his family during his freshman year.
"For a lot of kids [going away] is traumatic," Washington stated. "For my daughter, who recently graduated from Tennessee State…her first year was a traumatic experience with being around strangers and sharing a bathroom."
Washington emphasized the importance of
having a four-year degree. "You have to have an education or a trade skill behind you," he said. "Long gone are the days where if you wanted to work at the steel mill, Ford Company or Chicago Public Schools, then you knew you had a job where you could retire from." Washington said the Silas Purnell College Expo's mission is important because the late Silas Purnell, who died 14 years ago, assisted more than
60,000 students with financial aid and admissions to colleges and universities throughout the country.
"If nothing more, come and tell the Purnell family thank-you," he said. "Here is a man who helped 60,000 students go to school. That family had to sacrifice and there were programs and opportunities this man missed while he was getting money for your kids."
For more information, you can visit 773-651- 3958 or visit www.chesterfieldcommunitycouncil. org.