"REWRITING HISTORY: PAPER GOWNS AND PHOTOGRAPHS" TO OPEN AT THE DUSABLE MUSEUM
10/25/2017, noon | Updated on 10/25/2017, noon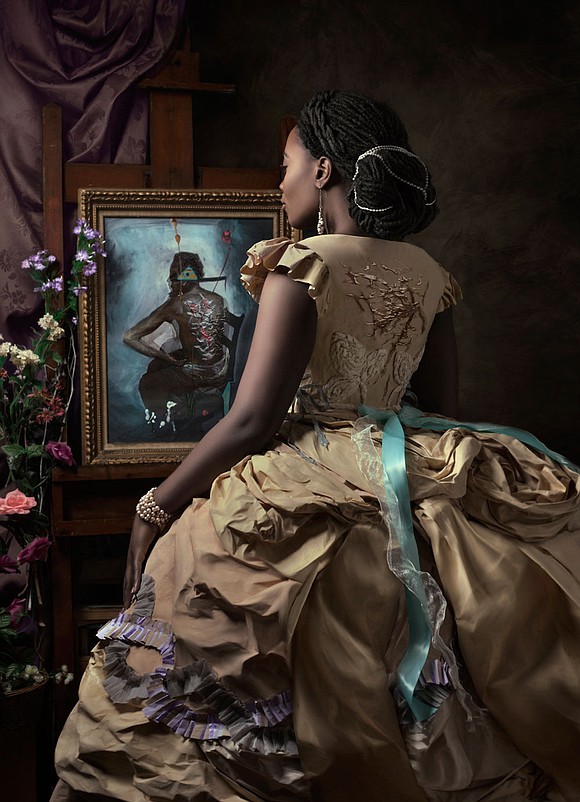 "REWRITING HISTORY: PAPER GOWNS AND PHOTOGRAPHS" TO OPEN AT THE DUSABLE MUSEUM
The DuSable Museum of African American History is pleased to present a new exhibition by art photographer, Fabiola Jean-Louis titled, Rewriting History: Paper Gowns and Photographs. The exhibition will open on Saturday, November 4, 2017, at the DuSable Museum of African American History. The Museum is located at 740 East 56th Place (57th Street and South Cottage Grove Avenue) in Chicago.
Rewriting History: Paper Gowns and Photographs, is an inquiry into social change. How much has society really changed since the beginning of slavery? Do Black lives matter even in the 21st century? The exhibition interrogates these questions and more through a haunting photographic essay and paper sculptures styled to mimic garments worn by female European nobility between the 15th – 19th centuries. As part of a developing master series of paper gown sculptures, the series speaks to the shocking treatment of Blacks throughout history and the trauma inflicted on their bodies as juxtaposed with the abstract idea of Black freedom. Simultaneously, the body of work engages with a vision of the future – one of hope, strength, resilience, and beauty.
The materials used for the paper gown sculptures are transformed in a way that allows the artist to represent layers of time and the events of the past as they intrude upon the present. Through the materials, the artist suggests that although we cannot change the past, we can act to change the present, as we activate the memories, visions, and legacies of our ancestors. Rewriting History seeks to reconnect viewers to the past so that parallels with current events are amplified.
As a two-part series that includes life size, paper gowns (along with paper props), and photographs, Rewriting History is powerful and provides interaction among viewers. The gowns are made to mimic actual fabric to the point where details such as embroidery, are painstakingly hand-painted onto the paper sculptures.
According to Ms. Jean-Louis, "Rewriting History is an interdisciplinary series that exists to provide a ride through antiquity and imagination. My goal is to use the vehicle of beauty to discuss ugly truths regarding the African Diasporic experience."
ABOUT FABIOLA JEAN-LOUIS
Fabiola Jean-Louis is a Haitian born, New York and Brooklyn raised, mixed media artist. As a teenager, she studied fashion design & illustration at the High School of Fashion Industries, and attended the Art Institute of Pittsburg.
During her formal education Fabiola became disenchanted with the fashion industry and left the field entirely. It would take 14 years before she discovered her talent in photography. While looking for inspiration, Jean-Louis remarked the absence of photographs that depicted Black mystical creatures and Victorian women. It then became her goal to tell the stories of her ancestors and express the influences of their contributions to American and European History, as well as preserve the beauty of her people through sculpture, fine art, and photography. Her work is informed by her Afro-Caribbean heritage, Black culture, and the dialogue of mysticism.
She is also heavily inspired by history, current events, science and folklore. Through her work, Jean-Louis explores the events of the past, present, and the possibilities of the future that involve her community.
Rewriting History: Paper Gowns and Photographs is made possible by the generous support of Hedspeth Art Consulting. The DuSable Museum of African American History is open Tuesday through Saturday, from 10:00 a.m. until 5:00 p.m. and Sunday from noon until 5:00 p.m. Admission is $10 for adults ($8 for Chicago residents), $7 for students and senior citizens ($5 for Chicago residents), $3 for children ages 6 through 11 ($2 for Chicago residents), with children 5 years of age and under admitted free. Admission is FREE on Tuesdays. The Museum may be reached by CTA buses #3, #4 and #55 and limited free parking is available. For more information on this exhibition please visit www.dusablemuseum.org, or telephone 773-947-0600.