100 Black Men of Chicago, Inc.'s – 15th Annual College Scholarship Fair
(Free Registration offered to all students and parents to interact with Colleges &Universities from across the U.S.)
10/18/2017, noon | Updated on 10/18/2017, noon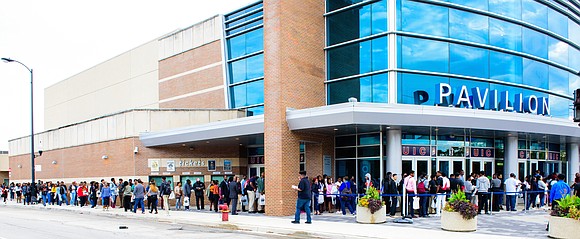 100 Black Men of Chicago, Inc.'s – 15th Annual College Scholarship Fair (Free Registration offered to all students and parents to interact with Colleges &Universities from across the U.S.)
The 100 Black Men of Chicago, Inc. (100BMC) recently hosted their 15th Annual College Scholarship Fair (CSF) at the University of Illinois at Chicago's (UIC) Pavilion, 525 S. Racine Ave., Chicago, IL 60607. The unofficial attendance count were estimated to be between 4500 – 5000 participants.
Registration for the event was free to all students. However high school juniors and seniors, in particular, were encouraged to assemble and bring with them information packets which contained their high school transcript, ACT/SAT exam score(s), letters of recommendation, personal essay and resume.
The 100BMC's Annual CSF has become the premier event of its kind in the Midwest; attracting, on average, 200 colleges and universities and attended by approximately 5,000 students, parents, teachers and partners in education from the Greater Chicago area, downstate Illinois, Michigan, Wisconsin, Indiana, Ohio, Missouri, and Iowa.
Over the prior fourteen (14) years the 100BMC has hosted its CSF, participating post-secondary institutions have tendered qualified high school attendees over $60 million in scholarships and grants, along with thousands of advance acceptance offers.
Since its inception in 1994, the 100 Black Men of Chicago, Inc. (100BMC), a not-for-profit organization, has taken on the mission of improving the quality of life and enhancing educational opportunities for African American youth throughout the Greater Chicago area.
Our mission is achieved through an acclaimed Mentoring Program which focuses on The 100 Black Men of America, Inc.'s "Four for the Future" community outreach initiatives. The initiatives are comprised of Mentoring, Education, Health and Wellness, Economic Development and Empowerment.