Chamberlain University President Releases Book About Creating Chamberlain Care
10/11/2017, noon | Updated on 10/11/2017, noon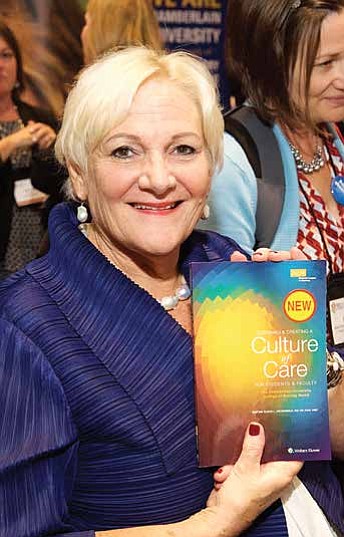 Chamberlain University President releases book About Creating Chamberlain Care (R)
Chamberlain University president Susan Groenwald, PhD, RN, ANEF, FAAN has released a new book that shares the seven-year journey to transform the institution's culture and work climate
into a culture of care. The book, "Designing & Creating a Culture of Care for Students and Faculty: The Chamberlain University College of Nursing Model," was released recently at the National
League for Nursing (NLN) Education Summit. It serves as a guide for any organization seeking to make cultural and structural changes to improve student or employee satisfaction, engagement and achievement.
The book describes the unique organizational culture and work climate
– Chamberlain Care
– in which students and colleagues thrive, students are cared for in a way that can improve their chances of success, and that provides an advantage in attracting and retaining high quality and effective healthcare faculty and staff.
Chamberlain Care has enhanced the services and support provided to students and faculty and has improved satisfaction, engagement and academic outcomes.
In fact, an independently administered survey of international
colleague engagement benchmarked Chamberlain faculty against employees worldwide.
Since 2013, Chamberlain's faculty engagement scores have remained above the benchmark for the best U.S. companies and continue to rival benchmark scores for the best companies in the
world.
"While many books and articles have advocated for care and caring in nursing education, what truly distinguishes this text and the work it describes throughout Chamberlain University, is its thorough coverage of how caring can be operationalized - and
made tangible - in all aspects of an organization's mission, vision, people, processes and practices," said NLN President Anne L. Bavier, PhD, RN, FAAN, dean and professor in the College of Nursing and Health Innovations at the University of Texas at
Arlington.
"In nursing education, a strong and positive culture that permeates throughout the institution not only helps nursing students stay in school and graduate, but ultimately provides the support needed for them to truly learn and develop the knowledge, skills and values today's nurses truly need," said Susan Groenwald, PhD, RN, ANEF, FAAN, president of Chamberlain University.
"I am thankful to the National League for Nursing for the
opportunity to create this work and share how Chamberlain Care is based on a deep passion to continually evolve and graduate extraordinary healthcare professionals."
NLN's Education Summit 2017 was held in San Diego this
past September, and Chamberlain served as a sponsor and exhibitor.
Publisher Wolters Kluwer Health hosted a "Meet the NLN Authors" event during the Summit on at booth #501, where visitors purchased signed book copies and speak with Dr. Groenwald and the other authors.
"Designing & Creating a Culture of Care for Students and Faculty: The Chamberlain University College of Nursing Model" is
available for purchase on the NLN Bookstore and other retailers.
Chamberlain University is a member of Adtalem Global Education (NYSE: ATGE), a global education provider headquartered in the United States. The organization's purpose is to empower students to achieve their goals, find success and make inspiring contributions to our global community. To learn more, visit chamberlain.edu.
Chamberlain University is accredited by The Higher Learning Commission (HLC, www.hlcommission.org). HLC is one of the eight regional agencies that accredit U.S. colleges and universities at the institutional level.
For the most updated accreditation information, visit chamberlain.edu/accreditation.