Talented young designers bring fresh energy to NYFW
10/4/2017, noon | Updated on 10/4/2017, noon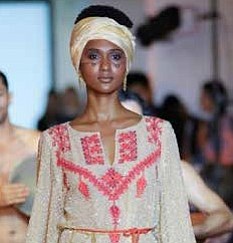 Talented young designers bring fresh energy to NYFW
Fashion Week kicked off with "Desert Flower" runway. Hosted by OR Movement and Tahor Group, the runway show
showcased fashion designers from the Negev desert in Israel, Matan Shaked and Aviad Arik Herman, with jewelry by Keren Wolf. The exclusive event took place on the 23rd floor of 666 Fifth Ave. The evening included multiple cocktail parties and a 40-minute runway show. A-list attendees from Project Runway, Love and Hip Hop and The Real Housewives
of New York along with top fashion editors, bloggers and socialites were amongst the 400 guests. The event delivered an "out of- the-box" presentation by OR Movement as an
organization celebrating its important work of developing the Negev and Galilee.
The OR Movement is a leading Israel-based organization, dedicated to the development of the Negev and Galilee, together consisting of 75% of Israel's undisputed territory; to date, OR has established nine new towns, helped more than 40,000 people relocate to these areas and won multiple
awards given by the president, the Prime Minister and the
spokesman of the Israeli parliament.
"We always strive to give our clients unique ways to market their brands during an oversaturated NYFW. This time the collaborations of these three designers continue our efforts to bring magnificent talent from Israel to US." said Tahor Group spokesperson.
Keren Wolf 's jewelry designs have recently graced the lips of Kylie Jenner for V magazine and several A-list celebrities, winning the coveted award of Jewelry Designer of the year 2017 in Israel. Matan Shaked is amongst the youngest fashion designers in Israel. He has been named by fashion influencers "The Wonder Boy of the Fashion World."
His creative journey started at the heart of the desert in the Negev and continued with his summer collection 2018, affectionately titled Desert Flower.
The finale dress was designed by promising young Israeli designer Aviad Arik Herman, best known for his "Jerusalem of Gold" gown, which caused an uproar of publicity at Cannes Film Festival in 2017. The final dress at this week's Desert Flower Runway combines authentic Bedouin elements with western touches by Herman, creating a symbolic cultural bridge for the region. The event as a whole and the final dress in particular brought new aspects of the region to New York, and tried to alter the perception of Israel through the lens of beauty and fashion. "This event is a platform for new ideas and a new approach to how different communities and cultures should join hands," said Roni Flamer & Ofir Fisher, the Founders of the OR Movement.
"We come with love to all the people living in Israel. We believe the communities need to find all the possible ways to live with each other, prosper and be financially, socially and religiously independent, next each other. Although we know it is hard to accomplish and is filled with endless challenges. This is the Rosh Hashana goal for all."