COMED PARTNERS WITH LATINO FASHION WEEK
10/4/2017, noon | Updated on 10/4/2017, noon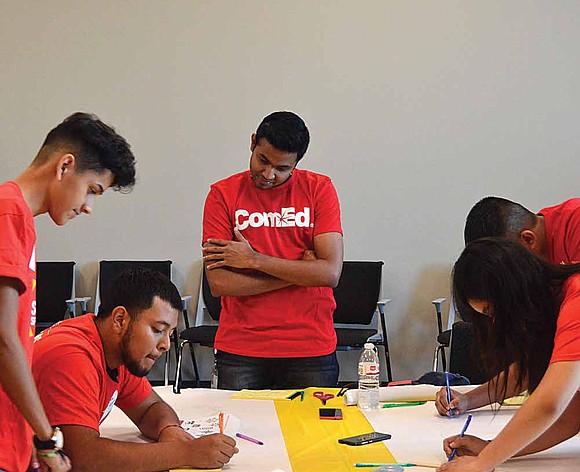 COMED PARTNERS WITH LATINO FASHION WEEK
CommonWealth Edison Company (ComEd) Solar Spotlight program hosted a two-day immersion session and brought together 50 Latino high school students to help design two solar-powered fashion designs for the Latino Fashion Week.
The Solar Spotlight program, which is focused on Science, Technology, Engineering, Arts and Math (STEAM), honored the Hispanic Heritage Month through hands-on student activities on solar energy and solar panels.
Fidel Marquez, senior vice president of ComEd's Governmental and External Affairs, explained that ComEd partnered with Latino Fashion Week so local students could have the opportunity of designing a dress and blazer lit up with LED lights, which were solar-powered with a battery back-up.
"Fashion is clearly a very visual art and it makes it fun for the students so engineering doesn't have to be boring," Marquez said. "This lets students know how you can apply STEAM in a very fun way."
High school student Esmeralda Facio said she was hesitant about joining the program but decided to participate because the incorporation of fashion design and engineering was something new.
"At first I thought it would be boring but the experience was really good," Facio said. "I like how ComEd made it fun and how we were able to design a dress and incorporate our cool [Latino] heritage."
Marquez continued to explain that statically the percentage of Black and Latino students entering careers in Science, Technology, Engineering and Math (STEM) is small,but he says STEM careers provide great stability for students to take care of their families.
"We believe through programs like Solar Spotlight, we at least make the introduction of the possibilities of STEM,"he said. "When ComEd thinks of STEM we see this program as the future of our company. Hopefully, these students will replace us one day but we have to find creative ways to make them excited."
ComEd engineers will serve as volunteer mentors to help the students learn more about solar energy and creative ways to improve public spaces using technology, according to a ComEd press release.
The dress and blazer filled with LED lights will also be on display at the Mexican Museum of National Art and the Puerto Museum of Art in the coming weeks.
For more information, you can visit www.ComEd.com/SolarSpotlight to learn more about the students' "Solar Spotlight" journey.