Township Officials of Illinois Issued Top Awards To Thornton Township
11/29/2017, noon | Updated on 11/29/2017, noon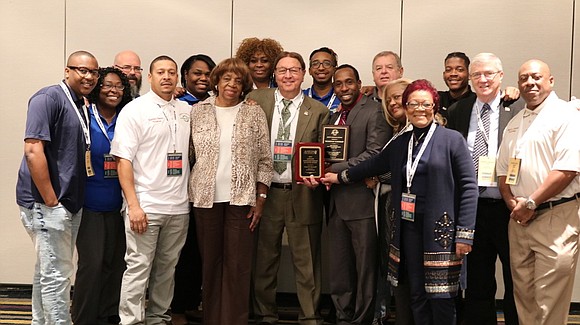 Township Officials of Illinois Issued Top Awards To Thornton Township
Thornton Township was awarded two media awards, and its President Frank M. Zuccarelli received an award for programs at the November 2017 Township Officials of Illinois awards ceremony. The awards received were Best Illinois Township Website and Best Illinois Township Social Media, and its President Frank M. Zuccarelli received the Friends of the Youth Award. Mr. Zuccarelli received this award for his diligent work of expanding services and programs for the township Youth and Adult Services Department.
"We have never won an award for our communications before and I am proud of our department that they are doing such great work to educate the community about our services," said Frank M. Zuccarelli, Thornton Township Supervisor.
According to Ernst Lamothe Jr., Community Relations Manager for Thornton Township, "Thornton Township underwent a complete website overhaul this year. The purpose was to create a more informative, interactive, and visually appealing site that would be useful to all our residents regardless of age. We consider a website the front door to the township. When people want to know about your government body, the first thing they do is search your website. The expectation is that they should be able to find the information quickly and clearly."
Township Officials of Illinois (TOI) held its November 2017 Annual Conference in Springfield, IL. TOI was founded on November 13, 1907. TOI is a statewide organization committed to representing over 10,000 township officials. TOI provides educational programming to township officials regarding their role in local government.
In 2016, Thornton Township received the Illinois Township of the Year Award. The township previously received this award in Years 2004 and 2008. Thornton Township is the largest township in Illinois.