Pullman Community Unveils Students Mural
11/29/2017, noon | Updated on 11/29/2017, noon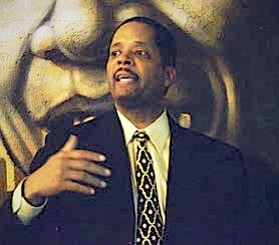 Pullman Community Unveils Students Mural
By Christopher Shuttlesworth
Alderman Anthony Beale, 9th Ward and the City of Chicago's Department of Cultural Affairs Artists' Mural Program recently allowed several public high school students in Chicago to collaborate on a mural created on 111th Cottage viaducts, interpreting the Pullman community's
unique social and cultural history.
The mural was designed by re-known Chicago artist Rahmaan Statik, who said the project is now a Pullman community landmark that was filled with a community engagement component of students working on a very organic level.
"I respected the theme and the practicality of the mural that we painted because it was bigger than Rahmaan Statik," he said. "It was about the Pullman community and showing the city of Chicago and the world that more than a high crime rate comes from the South Side, so we should stop demonizing the South Side."
Alderman Beale launched the 9th Ward Artists' Mural Program in December 2016 and it continues to nurture student artists and creative professionals from the community while enhancing the image of the Pullman community.
"I am proud of the community and the students," Beale said. "Maybe a few years down the road [the students] will understand what they did. It is unheard of for schools to come together [like this]. We always hear the negative about schools fighting but you all came together and did something magnificent, so you should be proud of yourselves."
He continued to say that students within the Pullman community are the next great thing to come out of the community and should take advantage of more opportunities like the 9th Ward Artists' Mural program.
"For the next 20 years, when you're driving pass, you're going to see your work on that wall and hundreds of thousands of people who come to the community will see your work," Beale said. "That's huge."
Rahmaan Statik, whose designs were selected and painted in the fall of 2017 by the high school students, received a commission from DCASE and the 9th Ward, according to a Chicago Neighborhood Initiative (CNI) press release.
Beale said during the Mural's Award Ceremony, which was dedicated to the high school students that the city of Chicago recently announced that it would now like to paint 50 murals in all 50 wards.
"I want you all to make sure that you take this on and let everyone know for years to come that you did this collectively as a partnership with all the high schools within the community," Beale told the high school students. "[This proves] we can get along, do positive things and build
beautiful murals together!"
Some of the high schools that participated in the mural program included Gwendolyn Brooks College Preparatory Academy, Carver Military Academy, Corliss Early College STEM High School, Harlan Community Academy High School, Percy L. Julian High School and Richards Career
Academy High School.