Past Construction Worker Opens Ariel Joseph Art Gallery & Salon
11/29/2017, noon | Updated on 11/29/2017, noon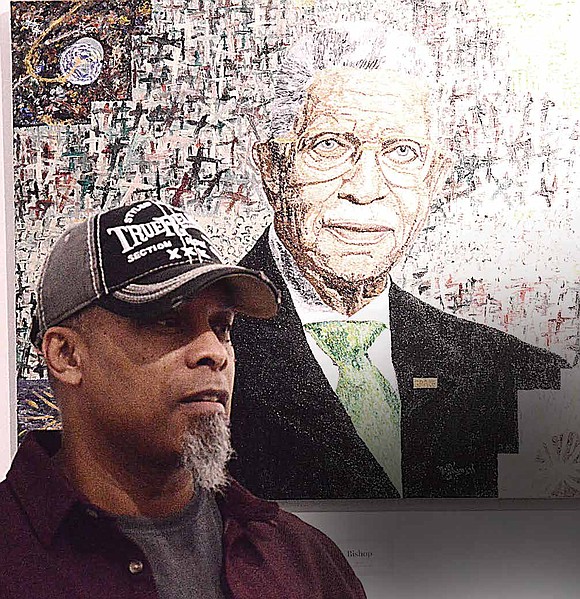 Past Construction Worker Opens Ariel Joseph Art Gallery
By Christopher Shuttlesworth
William J. Lynch, owner of Ariel Joseph Art Gallery & Salon, located at 6323 South Cottage Grove Avenue recently shared why he decided to leave the construction industry after more than 20 years and pursue his passion as an artist.
Lynch shared that he and his brother grew up mimicking his uncle, an artist who traveled overseas to Europe for events.
"My brother and I always mimicked his art because due to our Pentecostal (church) background, we weren't allowed to watch television, play organized sports and we
attended church four times a week," Lynch said.
During his high school years, his principals allowed him to display his art work on the walls, which would come up missing the following week.
"It was a compliment for me because someone would like them so much that they would steal them," he said.
"It was something that I carried on as an adult when I attended Columbia College Chicago."
Lynch continued to explain that he only could afford one semester during his college run and took on classes like cartooning, drawing and abstract art. He said he prefers to use a smaller brush to make a person's eyes bounce around the painting.
"I use a pixelated style with a small brush because it forces your eyes to move and when your eyes are moving, then your mind is working," Lynch said.
After his semester at Columbia College, he transitioned into the construction industry, serving local communities for 21 years.
But after years in the construction business, Lynch said something clicked in his head and said, "You're beating your body up, making all of this money and I knew I could draw and paint rather than scrapping my knees on this floor."
A knee injury on the job helped Lynch grow closer to his passion for art and see it as a blessing that could now be used for his next career.
"I knew I had something else to say that was unique and could come from me," he said. "When you're working in construction, you're part of a larger team but with art, it sets me apart because I can do something individually where no one can take credit
for."
Lynch said he and his wife (Jacqueline Lynch), who is a hair designer, decided to combine a hair salon and art studio together at a local space on 6323 South Cottage Grove Avenue.
"Some days no one will come in but then, that one person will come in at the end of the day and it make you feel like it is worthwhile," he said. "But the effort is worth it because you never know who is just looking in the window that might inspire someone to keep going towards their dreams."
Lynch said he has had recent art events for beginners interested in painting. "They may not be seasoned artists when they leave, but at least they experienced the activity and know they can accomplish something and hopefully take that experience and have more interest in art," Lynch said.
Art is an insight to the human condition and there are all types of art and human conditions.
"For me, everyone is an artist because everyone has their own individual story and own individual outlook of how they see things," he said. "If you express it on canvas, spoken word or singing then that is unique to you…even if you copy someone word for word, you still put your individual personality into it."
Lynch said he would never stop painting because it is now like breathing is for him.
"When I'm doing a painting, it's not just a physical thing. It's actually a spiritual event because part of my spirit is in each painting," he said. "I've thought about what if someone cut both of my hands off and honestly if I couldn't do it physically, then I would direct someone to do it because it's still in there."
For more information, please call 773-426-0485.