Michael Grant Resigns from National Bankers Association to Lead Regional Mortgage Banking Office and Launch National Speaking Tour
11/29/2017, noon | Updated on 11/29/2017, noon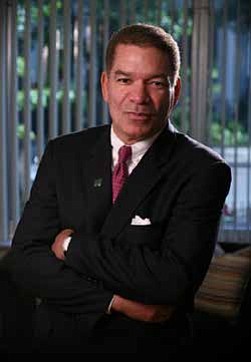 Michael Grant Resigns from National Bankers Association to Lead Regional Mortgage Banking Office and Launch National Speaking Tour
By Hazel Trice Edney
(TriceEdneyWire.com) - Michael A. Grant, who has gained a national reputation for his advocacy for Black economic empowerment for nearly a quarter of a century, has announced that he is resigning from the presidency of the National Bankers Association (NBA) effective Dec. 31.
"After nine years, I feel like I have taken this organization as far as I can take it," Grant said in an interview with the Trice Edney News Wire this week. "I used the NBA as a platform to promote Black economic empowerment because I feel honestly that that is where we are right now in our evolution in this country."
He continued, "But it's more than just wealth. There are issues that are ancillary and tied into this wealth. If you look at us in terms of what's happening to us with incarceration rates, look at how our system of justice treats African-Americans, look at how we are positioned in business and what networks are we in or not in. From every level of government to the private sector, we are still not first class citizens."
It is this level of insight that has not only sustained Grant at the NBA, but will now take
him to the next level of his career, according to those who know and support him.
Grant publicly announced his resignation at the close of the NBA's 90th anniversary
celebration October 6.
In an interview, he said he has accepted the presidency of a Black-owned mortgage banking firm's regional office in his hometown of Nashville, Tenn. He is withholding the name of the new firm until it is officially announced, but he describes it as a position that will give him greater freedom to exercise his passion - speaking on issues of
economic empowerment across the nation.
"Michael came to the NBA with a lot of energy. The excitement that he came with, that excitement has doubled. He's been a great, great spokesperson for us and a leader for us to continue having our banks to provide services for the minority community across the country," says Alden McDonald, CEO of Liberty Bank in New Orleans. "He's stayed on
task and he's communicated our message extremely well to the people in government to the people in corporate America and to the banking community as a whole. He was always able to communicate what African- American banks and minority banks have done for this country."
McDonald also praised Grant for his ability to coalesce. Grant is among the three founders of Black Wealth 2020, a movement that aims to increase Black business ownership, Black home ownership and business with Black banks by the year 2020.
"He understands the importance of servant leadership and will be truly missed in the
capacity as president and CEO of the National Bankers Association," says Ron Busby, President/CEO of the U. S. Black Chambers Inc., a co-founder of Black Wealth 2020.