Congressman Danny Davis Endorses Illinois Democratic Candidate Chris Kennedy
11/29/2017, noon | Updated on 11/29/2017, noon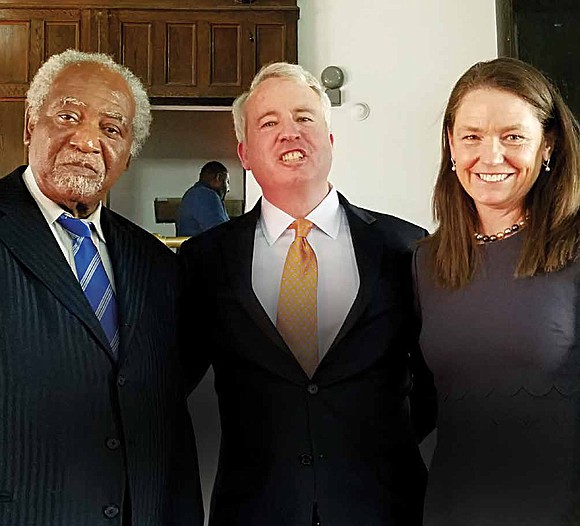 Congressman Danny Davis Endorses Illinois Democratic Candidate Chris Kennedy
By Christopher Shuttlesworth
Congressman Danny Davis recently endorsed Illinois Democratic Candidate for Governor Chris Kennedy during a press conference at Greater St. John Bible Church, located on 1256 North Waller. During the press conference, Davis, who voted for John Fitzgerald Kennedy as the 35th President in the 1960's, said he was inspired and motivated by the
Kennedy family to continue their fruitful legacy.
"Good fruit does not fall too far from the tree," Davis said. "I want someone in office that I can believe in and someone who I can go to the bank with what they say. I am excited for the next Governor of Illinois,
Chris Kennedy."
Currently, Chris and his wife, Sheila Kennedy, manage Top Box Foods, a hunger-relief non-profit organization they founded to deliver healthy an affordable food to underserved neighborhoods, according to kennedyforillinois.com.
Previously, Kennedy served as Chairman of the Board of the Greater Chicago Food Depository, which provides food to more than 600,000 adults and children each year.
Kennedy said when he and Davis were discussing the Governor race, Davis asked him about his thoughts on more quality educational opportunities.
Kennedy served as chairman of the University of Illinois Board Of Trustees and oversaw a $5.5 billion budget, 78,000 students and more than 23,000 faculty and staff during 2009 to 2015.
He said his full education plan for Illinois includes creating more equitable access to prenatal care; providing healthy food and nutrition for mothers and their babies; supporting paid family leave and incentivizing affordable childcare services, according to kennedyforillinois.com.
More of his education plan includes, moving the Illinois towards full access to early childhood education; increasing state aid for a more fairly funded K-12 public school system and reinvesting in our higher education students and public institutions to revitalize the economy.
"[Congressman Davis'] endorsement is more than just a testament, it's a covenant," Kennedy said. "I know if I don't do the things as governor that I promised to the Congressman and his allies, the Congressman will
stand up to me, report to all of you and hold me to the promises and that gives me strength."
Kennedy recently announced his running mate Ra Joy, who has served as Executive Director of CHANGE Illinois, a non-partisan coalition that leads systemic political and government reform.
Other Illinois Governor Candidates include Senator Daniel Biss of Evanston, State Representative Scott Drury, Candidate Ameya Pawar, Anti-Violence Advocate Tio Hardiman and Suburban Businessman
Alex Paterakis and Businessman JB Pritzker. For more information, visit https:// kennedyforillinois.com/.