The Satio Foundation for Young Men Hosts Tie Workshop
11/22/2017, noon | Updated on 11/22/2017, noon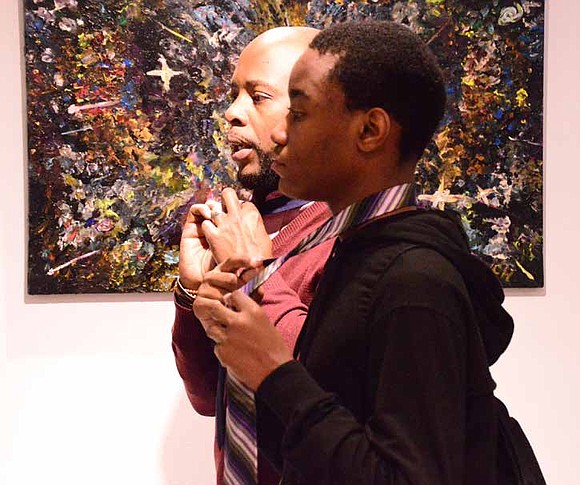 The Satio Foundation for Young Men Hosts Tie Workshop
The Satio Foundation for Young Men recently conducted a mentoring workshop for young men that covered tie design, suspender coordination and the art of making connections and building branding skills at Ariel Joseph Art Gallery, located on 6323 S. Cottage Grove Ave.
Sherod Craig, founder and chief executive officer (CEO) of Satio Foundation for Young Men, said the reason the Satio foundation hosts these types of events is because young men, especially today, need entrepreneurial and most importantly, life skills.
"A lot of the skills that young people were embedded with at a young age in prior generations through church and community groups are no longer available to young men within the community today," Craig said. "So, our Satio Foundation hosts different programs for young men to help them with etiquette, tie-tying and business skills in order for them to get caught up to be successful in life."
He continued to explain that the Satio Foundation recently hosted a past tie-tying event and found out that a lot of young men didn't know how to tie a tie at all.
"This is unfortunate because whether it is a funeral, a job interview or wedding, there are times where a man should have on a tie or at least, know how to where a tie," Craig said. "So, we [gave] out free ties and suspenders to young men and we showed them how to wear a bowtie."
Craig said before starting the Satio Foundation in Oct. 2015, he previously worked at Cook County Boot Camp Jail, and saw a lot of young men who needed assistance and needed skills that most people take for granted.
"It's very important for young guys to know about tie tying because if they don't know how to wear a neck-tie, bow-tie or how to properly dress formerly, then when they go out into the world to court young women, meet other men or go on job interviews then they're immediately
excluded before they have a chance to show their other skills and qualifications," Craig said. For more information, visit http://www.satio.org/.