Mayor Rahm Emanuel Joins Glassdoor's Grand Opening
11/22/2017, noon | Updated on 11/22/2017, noon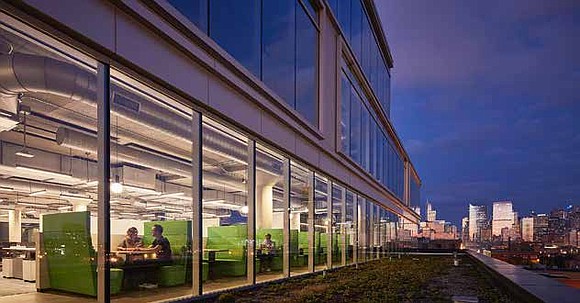 Mayor Rahm Emanuel Joins Glassdoor's Grand Opening
By Christopher Shuttlesworth
Mayor Rahm Emanuel recently joined Glassdoor, one of the world's largest and fastest growing job sites, to open the company's newest office located at 1330 W. Fulton Street in
Chicago's rapidly developing Fulton Market District.
Scott Dobroski, Glassdoor Head of Corporate Communications, said Glassdoor combines millions of jobs with reviews, ratings and salary information to help and inform people to make better decisions about where they choose to work.
"We wanted to expand in Chicago for a combination of reasons, including its central location, effective transportation network and its high quality talent pool and vibrant community," Dobroski said. "We couldn't be happier with our decision to add Chicago to the list of Glassdoor offices around the world – from our headquarters in Mill Valley, CA, to London and Dublin too, among other cities."
Glassdoor officially announced its expansion to Chicago
in late of 2015 and opened its first temporary office in February
2016 but selected its permanent Fulton Market office space in
May 2016.
"Glassdoor has experienced rapid growth in Chicago from[having] 30 employees in [2016], to today our Chicago
workforce are 200 strong and we're proud to employ a number
of local Chicagoans," Dobroski said.
He continued to explain that the Glassdoor office in Chicago is mostly comprised of sales and support staff, who partner with employers and help connect them with the 48 million users who visit the Glassdoor site and apps monthly.
"We will continue to hire sales professionals with a variety
of experience levels - from recent college graduates for our sales
development associate roles to mid-career sales executives,"
Dobroski said. "We're also hiring recruiters in our Chicago
office as we continue to grow."
Glassdoor currently employs more than 750 people around the world and now has reviews and insights for approximately 700,000 companies in more than 190 countries, according to a city of chicago press release.
"The talent of our residents, vibrancy of our innovation community and diversity of our expanding economy make Chicago the ideal home for a world-class tech company like
Glassdoor to grow," Mayor Emanuel said in a city of chicago press release. "Glassdoor and other companies of all sizes and across all sectors of the economy are choosing to create jobs in Chicago, move to Chicago and invest in Chicago because they recognize the unmatched assets our great city has to offer."
Dobroski said Glassdoor has been thrilled with both the
state and local support – from officials and area organizations –
that the company has received throughout its time in Chicago.
"It was a special moment to be joined by both state officials and Chicago Mayor Rahm Emanuel for the ribbon cutting ceremony during our grand opening," he said. "Its local companies, plus the 700,000 employers represented on our platform that make Glassdoor an incredibly vibrant community for connecting the right people to the right jobs and companies."
Glassdoor signed a long-term lease for the new 52,000-square-foot office in the Fulton West building, managed by Sterling Bay. The Glassdoor space was architected in collaboration with Skender Construction and design firm Valerio Dewalt Train Associates, according to a city of chicago press release.
Glassdoor's collaborative, open office space incorporates Chicago themes throughout its design, including sweeping views of the city's skyline. The art and graphics in the space were developed in collaboration with Glassdoor's own brand design team and Media Objectives, according to a city of chicago press release. The office will have access to a diverse rotation
of lunch options from local food vendors brought onsite for employees, along with easy access to nearby food and restaurants. Parking is available, along with proximity to public
transportation and the building's shuttle services to nearby
train stops.
"Glassdoor's mission remains to help everyone find a job and company they love," Dobroski said.
For information on labor market trends and analysis, visit
Glassdoor Economic Research. For company news and career advice and tips, visit the Glassdoor Blog and for employer related
news and insights to help employers hire, visit the Glassdoor for Employers Blog. For more information, please visit www.glassdoor.com.