Homewood Chevy Announces Christmas Car Giveaway
11/22/2017, noon | Updated on 11/22/2017, noon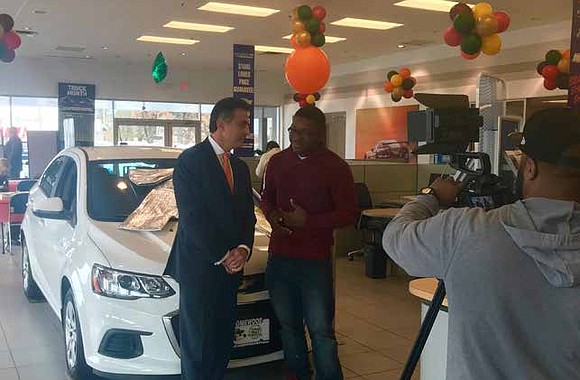 Homewood Chevy Announces Christmas Car Giveaway
By: Katherine Newman
Chevrolet of Homewood held a press conference on Nov. 13 to announce their third annual car giveaway. The dealership will be giving away a brand new Chevrolet Sonic to a deserving member of the community.
"Chevrolet of Homewood in conjunction with the great people that live around us are going to give away this brand new car to a family that needs it," said Steve Phillipos, President of Chevrolet of Homewood.
To enter the contest, applicants must submit 200 words or less explaining why winning a Chevrolet Sonic would have an impact on their life. Stories can be submitted at homewoodchevycares.com.
Phillipos encouraged people to enter for themselves, someone they know, or a complete stranger that they believe would benefit from winning car.
"It's important to bless others when you're in a position or not. When you bless people that's how you get your blessings," said Ja'Mal Green, founder of Majostee Allstars
Majostee Allstars will also be giving away a few prizes to finalists in the competition, according to Green.
"If you know somebody, a neighbor, a friend, someone you go to church with, somebody you saw on the street, take 5 minutes and write their story," said Phillipos.
The deadline to submit a story is Dec. 17.
Starting on Dec. 18, Phillipos along with Ja'Mal Green and the Mayor of Homewood, Rich Hofeld will be reading the submissions and choosing a winner.
It's not just the car, it's going to change someones life," said Phillipos.
The car will be officially given to the winner on the morning of Dec. 24.
Coincidentally, the last two winners were families that had children with cancer and needed a reliable vehicle to get back and forth to doctors appointments.
"We are not just looking for children with cancer," said Phillipos.
The previous winners not only received a new car but in addition an anonymous staff member of Homewood Chevy covered the tax and title fee's for the families so they were able to accept the car without worry, according to Phillipos.
"If I were to give away a car to somebody and then ask them for $1700 in taxes they couldn't go on with it, and I know that," said Phillipos
The car will be officially given to the winner on the morning of Dec. 24.
For more information and to enter the contest visit homewoodchevycares.com.