During the Season of Giving, Kids Get Warm Coats and Books
11/22/2017, noon | Updated on 11/22/2017, noon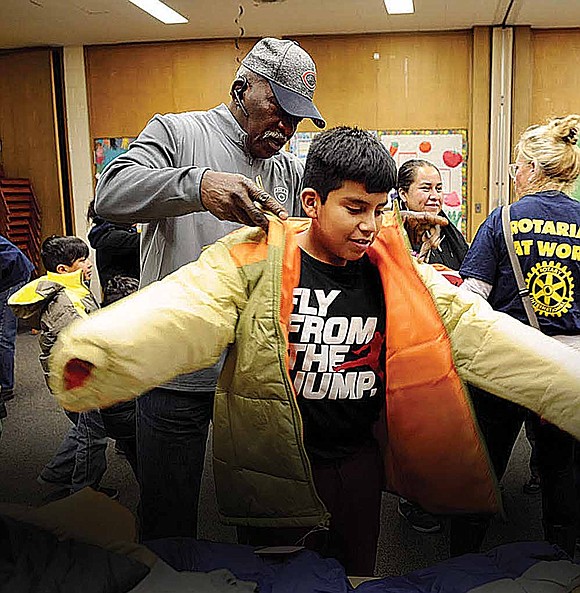 During the Season of Giving, Kids Get Warm Coats and Books
By Christopher Shuttlesworth
Chicago Public Library (CPL), in partnership with national nonprofit Operation Warm, recently donated 300 new winter coats and 600 children's books at Chicago Lawn and Bessie Coleman library branches.
Operation Warm approached CPL about giving away 300 new winter coats and 600 books in Chicago Public Library branches during a Chicago Community Trust "On the Table" lunch in May of 2016, according to CPL.
Rich Lalley, Development Director at Operation Warm, said the organization is very active in providing brand new winter coats to Chicago kids in need because they are the future of each local community.
"We know parents will go to great lengths to get brand new coats for their kids and we wanted to give families who rarely go to local libraries, the opportunity to do so," Lalley said. "Children deserve to know that people care about them and they need to have a coat to get to school in Chicago during the winter time because it's cold." He continued to express that giving a kid a coat brings them hope and happiness, and Operation Warm provides coats for kids with the slogan 'Giving a coat to a child is more than a coat.'
"This particular program connected [children] to books and allowed them to experience how much fun you can have in the library, which is a place they may want to spend more time in after school rather than on the weekends," said Lalley.
Chicago Police Officers from the CAPS program as well as retired NFL players Gloster Richardson, Major Hazelton and Charles Brown helped distribute coats and books as well.
"Chicago Public Library locations serve as community anchors in neighborhoods across the city," CPL Commissioner Brian Bannon said. "Providing our youngest patrons with the opportunity to receive a new winter coat and books to build their personal libraries advances our goal to build strong communities."
Operation Warm manufactures new winter coats designed for maximum warmth and durability in 18 different style and color
combinations for each gender and each child was able to choose
their own coat at each library site, according to a CPL press
release.
For more information, visit https://www.operationwarm.org/
or https://www.chipublib.org/.