CCT ADDS PIVEN THEATRE AS NEWEST EDUCATION PARTNER
11/22/2017, noon | Updated on 11/22/2017, noon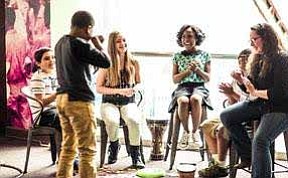 CCT ADDS PIVEN THEATRE AS NEWEST EDUCATION PARTNER
CHICAGO, November 8, 2017 – Evanston's Piven Theatre Workshop will establish its first partnership with Chicago Children's Theatre when it starts offering advanced youth acting classes at Chicago Children's Theatre, The Station, in January.
Piven Theatre Workshop joins a robust list of elite Chicago youth arts education providers helping train young minds, from newborns to age 13, at Chicago Children's Theatre's new West Loop home.
CCT education partners at The Station already include The Second City, now offering improv classes in the West Loop for kids ages 9 to 13, Old Town School of Folk Music's Wiggleworms early childhood music education classes, and circus and aerial arts with The Actors Gymnasium.
Piven's arrival in January marks a new chapter in advanced acting classes for kids at Chicago Children's Theatre. Introductory courses taught by CCT teaching artists now include Intro to Acting, Shake the Stage and Stage Combat for Kids. For parents eager to support their child's commitment to their theater studies, Introduction to Piven Theater Workshop (grades 3-5) and Piven Theatre Workshop Improvisation and Scene Study (grades 6-8) will become part of the growing curriculum at The Station.
Add CCT's interactive courses like Teeny Tales, Bubble Jams, Hip Hop 4Totz and Hip Hop 4Kidz, and Chicago Children's Theatre's new West Loop home is now a centrally located community hub with the most diverse roster of performing arts classes anywhere in Chicago.
Also new this year, CCT is offering its first Beach Party Winter Camp, Tuesday, January 2 through Friday, January 5. This camp is ideal for parents who need a break after the holidays, or need to get back to work, but their kids are still looking for something fun to do on winter break.
Kids ages six to ten will have a blast taking an island vacation in the heart of the West Loop this winter, with singing, dancing, surfing in front of a green screen wave simulation, learning to walk on beach balls, beach crafts, conch hunts and more. The price is $375. Hours are 9 a.m. to 3:30 p.m., with drop off starting at 8:30 a.m. and after care available until 5:30 p.m. for an additional fee. Visit chicagochildrenstheatre.org/wintercamp to register your child. Limited spots available.
"Classes at Chicago Children's Theatre are a blast and a great way for kids to meet other kids from all over the city, but they also, and importantly, help kids build confidence, overcome fears, learn to solve problems as individuals and as a group, boost imagination and creativity, think fast on their feet, become collaborators and, ultimately, be greater community members," said Frank Maugeri, Community Programs Artistic Director, Chicago Children's Theatre.
"That's why we continue to open new doors of opportunity, by forging great partnerships with fine institutions like The Second City, Old Town School of Folk Music, The Actors Gymnasium, The Happiness Club, iCook After School, and now, Piven Theatre Workshop, each tops in their field."
Registration is open for the upcoming, eight-week winter session of camp and classes, January 22-March 17, 2018, at Chicago Children's Theatre, The Station, 100 S. Racine Street in Chicago's West Loop. Visit chicagochildrenstheatre.org/winterclasses to view class schedules and sign your children up online, or stop by Chicago Children's Theatre, Monday through Friday, 9 a.m. to 5 p.m. or weekends during show hours to register in person.
For more, email education@chicagochildrenstheatre.org or call the education department, (312) 374-8834.