Women's Caucus Intends To Be Taken Seriously
11/15/2017, noon | Updated on 11/15/2017, noon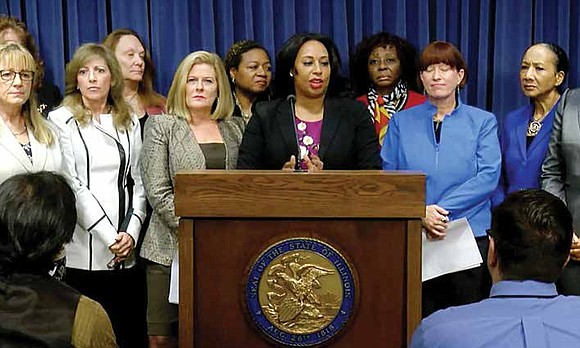 Women's Caucus Intends To Be Taken Seriously
By. Katherine Newman
The female senators in Illinois gathered to hold a press conference on Nov. 9 to announce the formation of their bi-partisan Women's Caucus. The
caucus will work to make sure that women have a voice in the senate and that the new task force on sexual harassment is real.
"We look forward to creating a real policy agenda looking at issues that impact women primarily," said Sen. Heather Steans, D-Chicago.
The female senators spoke on the informal meetings they have been having at restaurants and in each other's apartments for years and their
effectiveness.
"We started a lot of bi-partisan conversations a long time ago around the budget. We found that we worked very well together and we want to formalize this process of women working together across the aisle in the senate," said Sen. Steans.
After many years of private meetings, the women decided to come together publicly in the wake of sexual harassment accusations at the Capital.
Both the House and Senate voted to create their own task forces on sexual harassment to address the issue and make it known that they are
serious about making changes.
"Obviously we've got a task force coming up and I think our group is
going to work very hard to make sure that we stay focused as we talk about sexual harassment," said Sen. Karen McConnaughay, R- St. Charles.
She went on to discuss the role that women play as caregivers, decision makers, and in many homes, as the head of the house and the importance
of including the female voice in conversations about policy.
"The kinds of policies that we make here are critical to women all across our state," said McConnaughay.
The diverse group of women in the senate are confident in their ability to work together no matter where they stand on the political spectrum.
"We've got lots of issues of intersectionality to deal with and all that stuff will come up, but one thing we know is that when we sit down together we are able to talk about them and move the ball and the conversation forward," said Sen. Toi Hutchinson, D-Chicago Heights.
As a caucus their first order of business will be to address the topic of sexual harassment that has consumed the conversation over the last couple weeks.
"We want to make sure the task forces are real and that there is real input about legislation that is passed about us and for us that cannot be done without us," said Sen. Hutchinson
This topic is particularly important to Sen. Hutchinson because she spoke out about her own experiences of sexual harassment when she was
getting her start in politics.