Jonathan Jackson Urges Long-Term Solutions for Puerto Rico
11/15/2017, noon | Updated on 11/15/2017, noon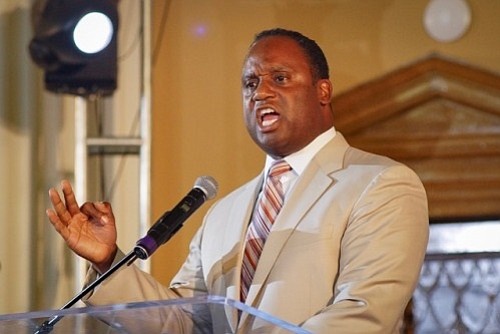 Jonathan Jackson Urges Long-Term Solutions for Puerto Rico
More than six weeks after Hurricane Maria ravaged Puerto Rico, entire communities are still without regular access to water, power and other basics a consequence of the short-term solutions the United States has slapped on the island's 3.4 million Americans, asserts RainbowPUSH Coalition National Spokesman Jonathan Jackson.
Numerous Puerto Rican communities, Jackson said, are still struggling in ways that would be unacceptable to Americans on the mainland. And the misery largely is due to the federal government's colonialist approach to the islanders, and its refusal to develop long-term solutions to assist fellow Americans.
You can't make long-term plans by applying short-term solutions, Mr. Jackson said. His comments follow his participation on a forum this past Saturday that also featured prominent Puerto Rican leaders Felipe Luciano, a renown poet, community activist, media personality and politician, Vilma Colom, president of the Northern Illinois Chapter of Puerto Rican Women and member of the Puerto Rican Parade Committee in Chicago. Mr. Jackson's father, the Rev. Jesse L. Jackson, Sr., the founder and president of the RainbowPUSH Coalition, was lso on the panel. The gathering was part of the RainbowPUSH Coalition's weekly forum held just days after Rev. Jackson enlisted corporations, such as FedEx, and prominent political, community and religious to visit Puerto Rico and transport needed supplies to the its citizens. Journalist Darryl W. Dennard, host of Chicago Speaks on iHeartRadio Chicago, moderated.
One example of this short-term approach, Jonathan Jackson explained, is a century-old shipping law popularly known as the "Jones Act." Officially titled the Merchant Marine Act of 1920, it is protectionist legislation meant to assist the domestic maritime industry. Under its provisions, the only vessels that may transport goods shipped within the United States are those owned, operated and built by Americans.
In the wake of Hurricane Maria, which raked Puerto Rico Sept. 20, the Trump administration suspended the Jones Act for 10 days, allowing broader access to all cargo vessels transporting relief supplies. But the waiver expired Oct. 8, and the Trump administration has refused to renew it.
Such short-sightedness, undergirded by centuries of colonialism and racism, explains why the island will remain mired in misery for far too long, Mr. Jackson said.
Mr. Jackson, who also is an entrepreneur and lectures at college business schools, said that wealthy Americans use Puerto Rico as a tax haven.
Well-off mainland residents can live on the island for half of the year – and then qualify for tax breaks. It is past time to stop using the island people to benefit those from the mainland.
"We must come together – as Americans – and develop long-term solutions to the issues facing our brethren in the Caribbean," Mr. Jackson urged.
Mr. Jonathan Jackson is an international social justice leader, who serves as the national spokesperson for the RainbowPUSH Coalition. He is also a noted businessman and professor of business at Chicago State University. For additional information on Mr. Jackson, visit www.thejacksonfile.com