Former Deputy Press Secretary Wishes Mayor Washington's Coalition had Survived
11/15/2017, noon | Updated on 11/15/2017, noon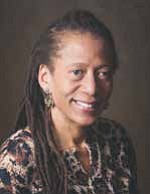 Former Deputy Press Secretary Wishes Mayor Washington's Coalition had Survived
By: Katherine Newman
In 1983 Laura Washington, a recent graduate of Northwestern University's Medill School of Journalism, was covering Harold Washington's revolutionary mayoral campaign.
Soon after being elected, Mayor Washington appointed Laura
Washington to deputy press secretary.
Three decades later Laura Washington is a respected journalist locally and nationally. She currently works as a political analyst for ABC 7 and has been writing a column for the Chicago Sun-Times since 2001.
CITIZEN: Describe the relationship you had with Mayor Washington professionally and personally.
WASHINGTON: As a reporter, I covered his campaign. At that time, I worked for The Chicago Reporter. As a candidate, Washington campaigned using the reporting and data we gathered that documented the racial and income inequities, and promised to address them. I was proud that our reporting had that impact.
After covering his administration for a couple of years, I was recruited to be his deputy press secretary. I hoped it would be an extraordinary opportunity to help make history and change Chicago. It was.
CITIZEN: What kind of work did you do as Deputy Press Secretary?
WASHINGTON: I acted as a spokesperson for the mayor answering questions from the media, overseeing the day to day operations of the press office, including his speeches and briefings, research, the mayor's appearances and events.
CITIZEN: In your opinion, what were Mayor Washington's goals and where did he find his motivation?
WASHINGTON: He wanted to bring fairness and equity to the city, particularly to Chicagoans who had been shut out of opportunities, who had no voice in City Hall. Washington inspired and empowered the voiceless, by working strategically and aggressively to bring them to the tables of power. He fiercely believed that Chicago was far richer and stronger when all its citizens participated. He insisted on equity and access to the corridors of power for all. Harold Washington inspired through his boundless energy, keen political mind and love of the people. My favorite campaign pledge, which he used often:
"No one, but no one in this city, no matter where they live, or how they live, is free from the fairness of our administration. We'll find you—and be fair to you, wherever you are."
CITIZEN: How have your political views been influenced or changed because of your time as Deputy Press Secretary?
WASHINGTON: I learned a valuable journalistic lesson. As reporters, we tend to be cynical and distrustful of government officials.
We think we have the answers and that much of government is corrupt, that decisions are highly politicized. I learned, from the inside, that governing, and decision making is much more complex than it appears on the outside. There are no simple, easy answers in policy making. The
vast majority of government officials want to help people, and do the right thing.
CITIZEN: Looking back, what are you the most proud of and what would you do differently in regards to Mayor Washington's time in office?
WASHINGTON: As the mayor's spokesperson, I was always upfront and open with the media and the public. I never lied or misrepresented the facts or realities we faced in City Hall. We made mistakes—every administration does—but we tried to take ownership and responsibility.