Chicago's Big Three and the Rebirth of Englewood Square
11/15/2017, noon | Updated on 11/15/2017, noon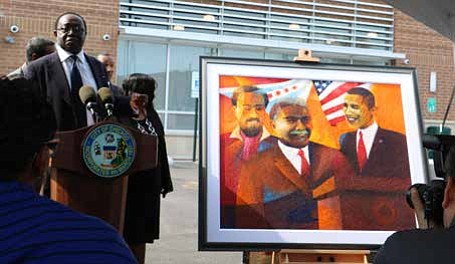 Chicago's Big Three and the Rebirth of Englewood Square
By Katherine Newman
Englewood Square recently celebrated one year since it's redevelopment with a painting called, The Art of Enterprise, created by Samuel Akainyah, a local artist originally from Ghana.
The painting depicts the three men who helped set the stage for black
success in Chicago and the importance of entrepreneurship in black communities.
Jean Baptiste Point DuSable, a black tradesman and the founder of Chicago, the late Mayor Harold Washington, Chicago's first black mayor, and President Barak Obama are who Akainyah calls Chicago's big three and
the subjects of his latest work of art.
The concept for The Art of Enterprise is a brain-child of Akainyah and Leon Walker, managing partner of DL3 Realty and the developer of Englewood Square.
According to Walker, the painting is a history lesson and shows how DuSable set the standard for black entrepreneurs in Chicago and how Barak Obama was able to become the first black president of the U.S.
on the shoulders of Mayor Washington and the coalitions he built.
"It's very important to make note that those three icons were history makers in a positive direction," said Akainyah. Akainyah came to Chicago from the Republic of Ghana in 1979 to study at the Art Institute.
During this time he met Mayor Washington who discussed with him his plans to create a Sister City Coalition. Mayor Washington asked Akainyah to be the representative of Ghana in this coalition and to connect him with more students from different communities.
Not even a week later, on Nov. 25, 1987, Mayor Washington died.
"When he passed away it was a big crush to me," said Akainyah
Flash forward thirty years and Akainyah has decided to make his way back into the creative art scene after a ten year hiatus.
Akainyah saw Walker on the news and the work he had been doing in Englewood and wanted to get involved. "I made an attempt to contact him because I was coming back to work and one of the first things I wanted
to do was something in honor and memory of the people I lost," said Akainyah.
Walker was already planning an event for the anniversary of the Englewood Square shopping center which has attracted Whole Foods, Chipotle, Starbucks, Villa Sports and Oak Street Health to move into the
neighborhood.
Walker commissioned the painting and saw it as another opportunity to give back to the community of Englewood.
"We need to see how important business and entrepreneurship are to the roots of our community and to supporting any political movement that we want to go with in the future" said Walker.
Proceeds from the sales of lithographs and posters of The Art of Enterprise are going to support Teamwork Englewood's Quality of Life Business Plan Competition. The competition is for local entrepreneurs and small business owners to launch or expand their business plans.
For more information on Englewood Square visit www. englewoodsquare.com.