Acellus robots now in place at Washington Elementary and Junior High Schools
11/15/2017, noon | Updated on 11/15/2017, noon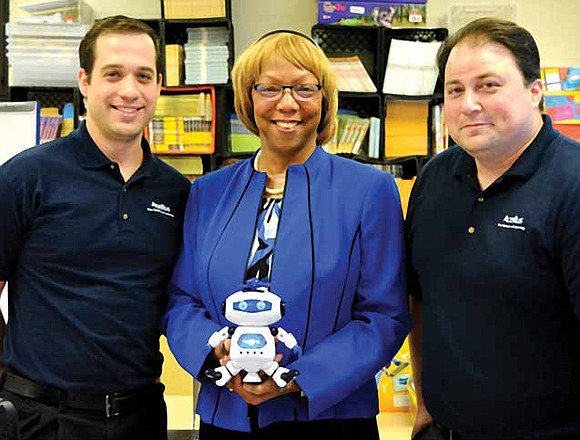 Acellus robots now in place at Washington Elementary and Junior High Schools
Dolton West Elementary District 148 administrators, teachers and students are
getting some hands-on experience with robotics.
The District has implemented Acellus STEM (Science, Technology, Engineering and Mathematics) Robotic Labs at Washington Elementary and Junior High Schools. The labs are being piloted this year at these two Riverdale schools. They are two of 10 District 148 schools. District 148 is one of the first school districts in Illinois to have the Acellus STEM Robotics Labs. The school system is looking forward to implementing the labs Districtwide.
"We are overjoyed to deliver such a unique and imperative educational experience to our young people. It is imperative that we help prepare them for
college and career options in the STEM fields. We love and appreciate having the
ability to fully equip our students with cutting edge technology in the classrooms,"
said Superintendent of Schools Dr. Kevin J. Nohelty.
A total of 15 Acellus robots are in place at the Washington Schools and students are currently engaged in the program's lessons.
Students use touch-screen monitors, dry erase markers and a specially-coated tabletop to learn, interact with and use coding language to program the small, blue and white Acellus robots.
These labs allow students to learn, discover and create in a hands-on environment designed to prepare students for STEM careers in society. Teacher and administrator training has already taken place and will continue during
the coming weeks.
Matching funds for the purchase of the Acellus STEM Learning Pods, Acellus
licenses and media servers was made available through grants. Grant funding also
was provided for professional development for teachers and administrators.
Approximately 2,100 students in prekindergarten through eighth grade attend
District 148 schools. The District serves families in sections of Dolton, Riverdale,
Harvey and South Holland.