Fair encourages safety for teens on the road
National Teen Driver Safety Week Observed Lisa
11/1/2017, noon | Updated on 11/1/2017, noon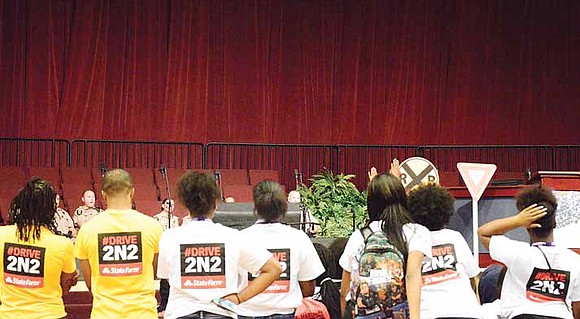 Fair encourages safety for teens on the road National Teen Driver Safety Week Observed
State Farm recently collaborated with Illinois Secretary of State Jesse White, the Illinois State Police and the Illinois
Partners for Traffic Safety and hosted the 2017 National Teen
Driver Safety Fair at the House of Hope Arena, located on 752 East 114th Street.
Lisa Cooper, community relations specialist at State Farm, explained that National Teen Driver Safety Week was started in 2007 to teach teens about how to make good driving decisions.
"We want teens to develop good, safety driving habits early on and we hope they continue to practice them through the years," Cooper said. "You can't distract the driver, but you have to let the driver focus on the road.
We want young people to drive two-and-two, which means two eyes on the road and two hands on the wheel."
The number of teen car crashes have decreased by nearly 43 percent in the past decade in the United States. In 2015, 4,308 teens were involved in fatal crashes as compared to 7,500 in 2005, according to the National Highway Traffic Safety Administration Fatality Analysis Reporting System. The number of Illinois teens involved in fatal car crashes has decreased by 45% (239 teen crashes in 2005 compared to 132 in 2015).
"We know that the new drivers have less experience
and are more likely to get involved in a car crash," Cooper said. "So, we try to educate teens to keep them safe on the roadway."
Missy Dundov, a representative for State Farm Public Affairs, said sometimes it's easier to listen to your friends than adults so now we have older teens talking to other teens about safe driving habits, which have produced great success rates.
"It's really important because what we find is with parents it's sometimes do what I say, not what I do," Cooper said. " [Parents] may say 'I can handle texting and driving, but you can't.' So, we want [teens] to hold each other accountable and keep their attention on the roadway."
All states now have at least some elements of graduated driver licensing. IIHS created a calculator that estimates how Graduated Driver Licensing (GDL) laws may affect collision claims and fatal crash rates among young drivers. Strong GDL laws consist of a minimum age of 16 for a learner's permit, a six-month holding period, supervised driving requirement, nighttime driving restriction, passenger restriction, cell phone restriction and a minimum age of 18 for an unrestricted license.
For more information, please visit http://st8.fm/ntdsw17.