ILLINOIS DEMOCRATIC CANDIDATE FOR GOVERNOR JB PRITZKER
Citizen Profile
5/24/2017, noon | Updated on 5/24/2017, noon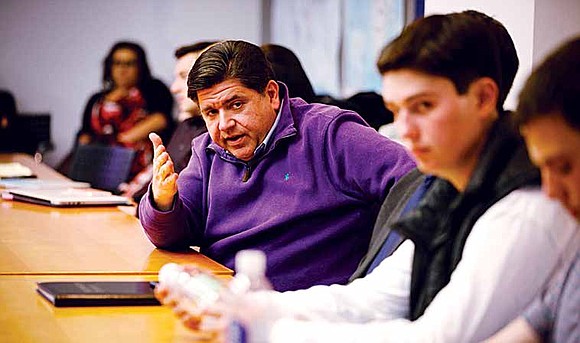 ILLINOIS DEMOCRATIC CANDIDATE FOR GOVERNOR JB PRITZKER
By Christopher Shuttlesworth
JB Pritzker, an Illinois Democratic Candidate for Governor, has spent his entire life standing up for democratic values. He has created more than 6,000 jobs in Illinois and has grown his own non-profit small business technology incubator called 1871. As a multi-billionaire and entrepreneur, Pritzker has been married to Mary Kathryn Muenster for almost 24 years, and has raised a daughter, Teddi (14) and a son, Donny (12). In an interview with the Citizen, Pritzker said he realizes the State of Illinois is in a major crisis and someone has to change the way the state is doing business.
Currently, under Governor Bruce Rauner's administration, Illinois has been left without a state budget for more than two years. As a result, schools in Chicago have suffered by facing staff budget cuts while
educational funding has been diminished. On top of that, small business owners have been forced to relocate to other states for better economic opportunities.
Pritzker has worked for 20 years as a National Advocate for Early Childhood Education and has brought in over $100 million in new capital to support more startup businesses through his company 1871. While speaking with the Citizen, Pritzker said he believes he can fix the state's financial woes and discussed his vision for change.
Pritzker said his success and knowledge as a business owner would be important in order to change Illinois' financial problems and the values and morals of the person running for Governor would be key.
"It's the values of the people who are running that really matters," he said. "It is about what they have been doing or cared about in their lives and what really matters. That is how you can tell whether they've got the right values to be the governor of the state or to fill a position in a high-elected office."
Pritzker explained how his parents were social justice advocates and economic advocates. He said as a young child, his family knocked on neighbors' doors as strong, progressive Democrats.
"When I was 11 years old, I started doing this and I haven't stopped," he added. "There is no candidate running for Governor of the State of Illinois today that has done more to fight Donald Trump in the last year than I did. I've traveled to multiple states and knocked on doors and spoke out on national television, calling him a racist xenophobe, which I think he is."
Pritzker said as a national advocate for early childhood education and quality child-care for kids, he has been engaged in trying to do really big things to affect a lot of children's' lives in a positive way.
He said many black and brown kids who are in at risk situations in the State of Illinois do not always get a proper breakfast on a daily basis. But Pritzker highlighted that he is continuing to work and partner with local organizations so thousands of children can experience a healthy breakfast.