AWARD-WINNING WRITER PRESENTS GRAPHIC NOVEL SERIES, RAYVEN CHOI
5/24/2017, noon | Updated on 5/24/2017, noon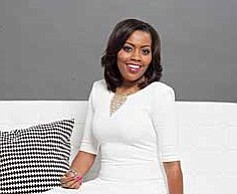 AWARD-WINNING WRITER PRESENTS GRAPHIC NOVEL SERIES, RAYVEN CHOI
By Christopher Shuttlesworth
Shequeta L. Smith, who is an award-winning writer and filmmaker based in Los Angeles, California, recently beat more than 5,000 entrants to become the only individual female director in the Top 20 finalists in HBO's Project Greenlight," according to a sherocomics press release. "After her success with the project, Smith decided to adapt
her award-winning screenplay, Rayven Choi, into a graphic novel series. Smith is scheduled to meet fans and autograph copies of the first two books of her groundbreaking series on May 26, 2017 at Graham Crackers Comics, located at 77 East Madison Street."
Smith said the graphic novel series, which combines both Korean and African American cultures, follows African American lead character
Rayven Choi, who at the age of five years old witnessed a hitman murder her parents. Smith said after the murder, Choi is adopted by her father's best friend and spends the next 20 years in Seoul, Korea.
As an adult, Choi returned to America to find the truth behind her parents' death and to ultimately, find the hitman.
Smith said Rayven Choi is a very cool character and the graphic novel series is a different type of graphic series that brought out a 'What If?" moment for her and her team. She explained that a lot of
times African American women's stories are set in history and set in different ways where you don't get to have a chance to do something out of the box.
"I want little Black girls to have someone to look up to because Choi was an African American character," Smith said. "We don't have a lot of those in the comic book industry. That was kind of what brought me in doing this story in the comic book medium because I would go visit comic shops and couldn't find any Black women on the covers at all."
Smith said the first two books of the six-book novel series, which will include a television pilot on the sixth book, took her two years to complete. She said it looks really easy and fun when looking at the novel but Smith says she has never done anything that has taken so much hard work and time.
"A lot of times when you're writing, you're trying to get it out quickly," she said. "Between Book two and three, I have taken a break and worked on it at a slower pace so I can make sure everything that I
put out resonates with people and the story stays interesting because if you rush it, then you get a rushed product out there. So, it's taught me a lot of patience."