FORMER PRESIDENT BARACK OBAMA PLANS TO TRANSFORM JACKSON PARK
5/10/2017, noon | Updated on 5/10/2017, noon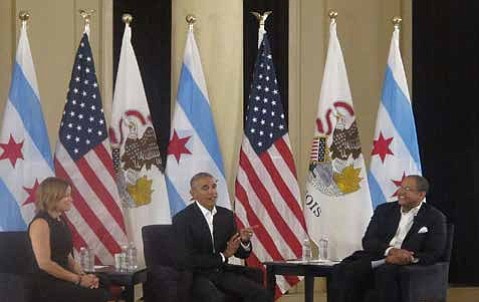 FORMER PRESIDENT BARACK OBAMA PLANS TO
TRANSFORM JACKSON PARK
By Christopher Shuttlesworth
Former President Barack Obama and First Lady Michelle Obama hosted a community event on May 3, 2017 at the South Shore Cultural Center, located on 7059 South Shore Dr., where the Obama Foundation released the conceptual vision and site map for the Obama Presidential Center.
The Obama Presidential Center, [which won't be completed until 2021], will be integrated into Jackson Park, a historic park in the heart of the South Side of
Chicago and the community the Obamas call home.
"The Obama Presidential Center will also strengthen the economic climate of the community by bringing hundreds of thousands of visitors to the South Side every year,
creating new jobs and opportunities on the South Side and revitalizing historic Jackson Park," according to a press release.
Obama said there are a lot of Presidential Libraries and he believes there is a tendency to think that his Presidential Center will be a monument of the past or display his record of accomplishments during his presidential terms.
"When Michelle and I started talking about the Presidential Center, we were
really firm on what we wanted to create which was something for the future, something that looks forward, not backwards," Obama said. "And it's because of that perception that we call it a center and not a library."Obama
said Jackson Park is beautiful, but is lacking a vibrant energy when you drive
through the park, and he says it feels much different than Lincoln Park or
Millennial Park.
"It is not used in the same way and it is not accessible in the same way,"
Obama said. "It does not have features of the same sort and it's not as good
as it could be. So, part of what we said was 'how do we transform the park so
that it does start looking like Millennial Park and Lincoln Park, so things aren't
that way on the North side and a different way on the South Side?"
According to the Obama Foundation, the Obama Presidential Center will be an engaging working center for Chicagoans and for more than 700,000 thousand tourists to explore.
"The Center will include a state of the art museum, classrooms, labs, and outdoor spaces, and it will conduct programs that will give visitors not just memories, but real tools to create change in their own communities,"
according to the Obama Foundation.
Obama said another creation that he and Michelle are excited about is how the upcoming center will create an institution that will train the next generation of
leaders, calling them the Michelle and Barack Obamas of today.
"They can take up the torch and lead the process of change in the future," he said. "That is why we're calling this a Presidential Center and that is why the design is not just a single building, but more like a campus. We want this to be the world's premiere institution to train young people in leadership [and] to make a difference in their communities, countries and in the world."