Willie Lee Wilson files Racial Discrimination Complaint Against DNC
5/3/2017, noon | Updated on 5/3/2017, noon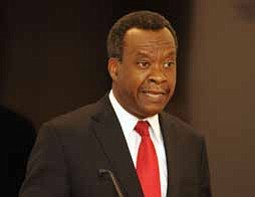 Willie Lee Wilson files Racial Discrimination Complaint Against DNC
By Christopher Shuttlesworth
Former African-American Presidential Candidate Willie Lee Wilson, filed a civil complaint on April 20, 2017 in the United States District Court for the District of Columbia against the Democratic National Committee (DNC) on race discrimination grounds, according to Wilson's attorneys Donald Temple and Wayne Kendall.
"Wilson's current lawsuit seeks to ensure equity and fairness in the DNC's treatment of party candidates and reimbursement to Wilson for the monies expended by his campaign on his candidacy and his battles to ensure his inclusion on ballots," according to a press release.
Wilson, who ran as a 2015 Presidential Candidate said his understanding for the requirements of the position was that candidates had to be 35 years old and a current American citizen, which Wilson said he met both qualifications. But Wilson said when his team of lawyers reached out to the Democratic National Committee to receive information they needed for the presidential candidacy position, the committee was allegedly uncooperative.
"My attorney put together emails and letters, but didn't hear back from them until two months down the road," Wilson said. "When they did hear back from them, they still wouldn't cooperate and they said I wasn't a sanctioned candidate."
Wilson further explained that he went on the road to campaign at different community events and churches, but claims he still wasn't allowed to participate with key white presidential candidates at several events.
"We went inside where they were holding discussions and they had security guards, police officers and secret servicemen stop me at the door," he said.
"Look, I'm a candidate. But since I'm not allowed up there…can I come in and ask some questions? Then they told me 'No,' and they blocked me. They put all the white presidential candidates' names on there, but didn't put my name," he stated.
According to a press release, Wilson is not an elected official, but he did qualify to be on the "ballot in 10 states including: South Carolina, Mississippi, Iowa, California, Louisiana, Texas, Missouri, Nevada, and Illinois." In a released statement, Wayne Kendall, Wilson's Atlanta-based lawyer in his federal lawsuit, said Wilson had to file a lawsuit in the state of Mississippi to get on the ballot, which was ultimately decided by its Supreme Court.
Wilson said while he did campaign in 8 to10 states, he still had trouble getting residents to listen and talk to him in Alabama, Florida and Michigan. Wilson said he took his 16-year old son on the campaign trail to show him that black people still aren't free and that black people are still fighting.
"If anybody was the right candidate to be the President and met all of the qualifications, it was me," Wilson said. "I came through the American Dream of a sharecropper all the way up to a successful financial man. I felt that I've worked my way all the way up in the ranks and I meet all of the qualifications and I'm still not free."