COMED HOSTS MULTICULTURAL MEDIA ROUNDTABLE
5/3/2017, noon | Updated on 5/3/2017, noon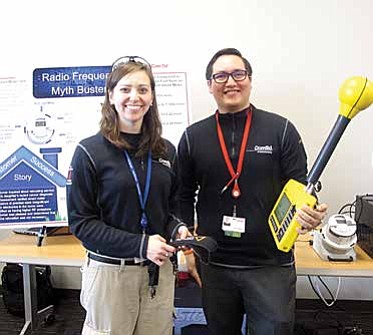 COMED HOSTS MULTICULTURAL MEDIA ROUNDTABLE
By Christopher Shuttlesworth
ComEd hosted its 5th Annual Multicultural Media Roundtable on April 25, 2017 at the Chicago Training
Center, located at 3536 S. Iron Street. The roundtable
was an opportunity for Chicago :media to engage with ComEd leadership, learn about programs that impact
minority communities and see how the utility company is
investing in diverse job spend and job creation in Illinois,"
according to ComED.
Anne R. Pramaggiore, who is the President and
CEO of ComEd, said the company's last five years have
focused on improving their Smart Grid, but she says the
company's next five years will be centered on initiating a
Clean Grid.
She explained that the Illinois General Assembly
passed a bill called the Future Energy Jobs Act (FEJA) in
December 2016, which helped ComEd set up a roadmap for the future.
"Over the next 10 years, we're going to be enhancing
our efficiency programs and we expect to see $4 billion
dollars in energy savings," Pramaggiore said.
According to a ComEd press release, the "bill is set to
increase funds for renewables, which will set the stage to
grow enough solar and wind energy to power one million
homes and expand energy efficiency programs to create
$4 billion in savings." The Bill will also "reduce the CO2
equivalent to remove 18 million cars from the road
and preserve Illinois' clean energy leadership, which will prevent 20.2 million metric tons of carbon emissions through the continued operation of Illinois at risk nuclear
plants," according to a ComEd press release.
Pramaggiore said another key value of the legislation is that it will bring more job opportunities to local Chicago communities.
"We have dollars specifically targeted to low-income
communities for renewables and $30 million dollars in training as we move into the clean energy world," Pramaggiore said. "This is our opportunity to the people who live in our communities that we serve to help them learn a job and a skill."
"FEJA will significantly expand energy efficiency programs in Illinois and increase funding for energy efficiency from $250 million to $400 million per year by 2030," according to a ComEd press release.
"It will also set new energy savings goals, increasing from 6.6 percent in 2017 to 21.5 percent by 2030.
FEJA will align utility and customer interests toward less energy use and a clean energy future, which
will change the utility business model so that ComEd can invest in energy efficiency as a service and achieve performance incentives by delivering energy saving results."
Melissa Washington, who is ComEd's Vice President of External Affairs, said the company was grateful that the Illinois General Assembly was able to understand the magnitude of the changes that are beginning to take place in the environment.
"There is a shift that is happening in the energy
environment and due to the foregoing conclusion of climate change, we are very fortunate to have had the legislation passed," said Washington.