AT&T Celebrates the Power of Sisterhood with Luvvie Ajayi
3/22/2017, noon | Updated on 3/22/2017, noon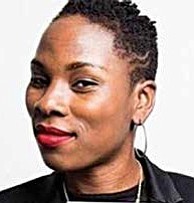 AT&T Celebrates the Power of Sisterhood
with Luvvie Ajayi
DALLAS- PRNewswire--Best-selling
author and digital strategist Luvvie Ajayi
recently joined AT&T* at the Black Enterprise
Women of Power Summit in Phoenix on
March 9-12. Best known for her popular
blog Awesomely Luvvie, Ajayi took part in
a special dose of "real talk". She discussed
her compelling journey and the power of
sisterhood and digital connections.
Ajayi opened up about her first bestseller
"I'M JUDGING YOU: The Do-Better
Manual." The book chronicles her path and
lessons she learned about the power of women
along the way. She also talk ed about how she
used a "mean digital game" to build her own
personal brand.
"I've lost count of the many women who
pushed me to do my best, opened doors
for me, mentored me or simply had an
encouraging word," Ajayi said in a released
statement. "Much of it came through social
media and digital connections. So, it makes
sense for me to sync with AT&T to open a
dialogue with some of corporate America's
most powerful women of color about this very
topic."
Find out more about the summit at
thebridge.att.net.